Inter Competition Events and Results
June 2016 - Come into school and see our Sports Blog display!
Netball vs SS Peter & Paul (22.03.16)
We played SS P&P again, as a rematch ... they were really good! The score was 8-2 to them, although we lost we felt proud of ourselves. We were a bit sad because Mrs Williams had promised us a treat if we won! An interesting moment was when Aldona said she couldn't score - only to score within the next minute!
Written by Francesca & Sinead (team members)
Netball vs Holly Bush (21.03.16)
We played Holly Bush, both teams played really well. The team was made up of Sinead, Amelia, Abigail, Madison, Aldona and Niamh (c). We drew 4-4 and we felt proud to represent our school!
Written by Niamh (team captain) & Aldona (team member)
U9s vs Meanwood (21.03.16)
The team consisted of Logan, Lorna (c), Reece, Callum, Lucas, Evan, Lewis and Arsene. It was a very tght game with lots of action. The result was 2-1 to Holy Family. The best moment was when Logan saved a penalty and Lewis scored a goal in the last minute - it was the goal to win!
Written by Reece & Lewis (team members)
Cross Country @ Grammar School at Leeds (19.03.16)
Well done to the cross country team who took part in the final cross country race of the season.
National Cross Country Finals @ Belvoir Castle in Leicestershire (19.03.16)
Well done to Kacey who competed in the National Finals on Saturday 19th March. It was a tough race with over 100 runners and even a wooded area to run through!
Year 3 & 4 Sports Hall Athletics @ Swallow Hill High School (17.03.16)
This was the first time we had competed as a team at Sports Hall Athletics. In our team there was Leigha, Ebonie, Sophia, Oliwia, Sam, Lucas, Lillie, Evie-Rae, Logan, Lorna, Mason, Reece, Mae, Alfie, Callum, Evan, Shantana, Noah, Daisy and Finlay. Some of the different events were multi skills, six lap running and chest push. We came joint second! We felt special because we were chosen to represent our school.
Written by Leigha & Ebonie (team members)
West Yorkshire School Games - Cross Country (12.03.16)
Well done to Kacey and Logan who represented Leeds at the #WYSG2016. It was a beautiful morning as we made our way to Leeds Beckett Park for the opening ceremony and a warm up dance routine. After we walked around the race course, Kacey and Logan were ready to run! Logan did extremely well as he placed 14th (last year he ran in the Year 4 race and placed 24th even though he was in Year 3!) and Kacey, who ran the Year 5 race, placed 2nd!
This means Kacey is now through to the National Cross Country Championship Finals at Belvoir Castle in Leicestershire NEXT SATURDAY (19th March). We couldn't be more proud of you both and good luck to Kacey for next week! :)
Netball vs SS P& P (07.03.16)
We played against St Peter and St Paul. We played different rules but we played very well to say we hadn't played those rules before. The score was 4-2 to SS P&P which is close but their shooting was impressive! It was a tough game because there was lots of contact from them and we need to work on our footwork, but we hope to have a rematch soon!
Written by Sinead (team player) and Niamh (team captain)
Year 4 Skipping @ Mount St Mary's (03.03.16)
Year 4 were invited to take part in the Skipping School competition at Mount St Mary's. Everyone had to do different skipping things. Callum and Lorna did side swing, Mae and Reece did criss cross. Our dance rocked and we were probably the best! We didn't win but we gig really well. St Patrick's won ... again. We felt happy to represent our school and next time we will use St Francis' of Assisi idea and use Space Hoppers for our dance!
Written by Mae, Maja and Oliwia (team members)
Rock climbing @ Swallow Hill (21.01.16)
Levi, Jemma, Amelia, Cristina, Francesca and Aldona went rock climbing at Swallow Hill. We got split in half and half of us went in the sports hall to do some activities and half of us went to the climbing wall. It was so fun! Some of us were scared but we overcame our fears! Amelia even got 5 house points for getting over her fears on the wall!
Written by Francesca & Amelia (team members)
Cross Country @ Beckett's Park (12.12.15)
It was really cold, wet and muddy! But it was still fun and everyone did really well. Kacey came 19th, Amelia came 63rd, Francesca came 84th, Mae came 94th, Logan came 55th, Sam came 84th, Mason came 85th, Alfie came 108th and Callum came 45th.
Written by Francesca & Amelia (team members)
Sportshall Athletics @ Priesthorpe (10.12.15)
There were six teams that played, we did races such as hurdles, obstacle course, races as well as field events like jumping and throwing. We came 5th overall - it was tough competition! It was good to be picked out of the whole school to represent Holy Family.
Written by Emily, Abigail & Ellie-Mae (team members)
Girls Football (07.12.15)
We played football and we won. Ellie Mae scored one, Emily scored four, Abi scored nine, Lorna scored three and Demi scored two. Also, Demi set loads up. In the end it was 18-0 to us. We sort of knew we were going to win!
Written by Ellie-Mae (team member) & Emily (team member)
Girls Football (04.12.15)
We are the second team and we were really nervous going to play against another team! We lost 15-0 but we don't mind because we loved representing our school!
Written by Lilly O, Riya, Sinead, Leigha, Aldona & Zuzanna (team members)
U9s vs Shakespeare (03.12.15)
Yr5 / 6 Girls Netball @ SHCC (03.12.15)
We played a netball gala at Swallow Hill. We played against Castleton and St. Bart's. We played 6 matches and luckily we got through to the final after Christmas, that is because we won every game! Us, as a team, felt really proud. We were all singing and cheering afterwards! When we played St Bart's, it was always a really close score but the last match we played against them, they must have lost power as we beat them by quite a few goals. The team was me, Abigial, Emily, Ella-Rois, Aldona, Jemma and Francesca.
Written by Niamh (team captain)
Girls Football (01.12.15)
U9s Football (01.12.15)
We were losing 4 - 1 and ended up winning 12-7! A really strong play and we were quite skilled. The team players and the goals they scored were Lucas (4), Lewis (2), Lorna (2), Evan (3) and Reece (1). We all felt really proud to be representing our school and the bet moment was when Reece curled the ball!
Written by Lorna (team captain)
Tag Rugby @ SHCC (15.10.15)
Holy Family's rugby team went to Swallow Hill and versed some of the schools our cluster. The schools were Castleton, Armley Primary, Christchurch, St. Barts and Whingate. We scored around 20 tries in all five matches. We won all five of our games. We conceded only two tries in all five matches! It paid off well and Holy Family came first place with Castleton coming in 2nd.
Written by Abigail (Team Captain) & Demi-Leigh (Sport's Leader)
U11s Football @ St Patrick's (13.10.15)
St Patrick's went a goal up but we did some good passing and it paid off well when we scored a goal!We had some good chances such as penalties and free kicks which ended up with a bad end product. St Patrick's keeper was very good and stopped a few one-on-one chances. In the end Holy Family won by 5 goals to 1.
Written by Louis (Team captain) and Abigail (Sports Leader)
Cross Country @ Middleton Park (10.10.15)
The first League race of the season was held on Saturday 10th October. Well done to all our runners who joined us early on the Saturday morning and a special thanks to all the parents who came along to support our runners.
Cross country @ Farnley Academy (07.10.15)
We had our first cross country race of the season on Wednesday 7th October. It took place at Farnley Academy and the course was incredible difficult! Well done to all our runners and to Kacey who finished 2nd and Logan who finished in 1st place!
U11s Football @ (05.10.15)
Sports Hall Athletics @ SHCC (01.10.15)
KS2 headed to Swallow Hill High School on Thursday 1st October to take part in the first sports hall athletics competition of the year. We were still learning our different events but managed to do really well and came 1st place out of the four schools at the event! Well done to our competitors!
Brownlee Triathlon @ JCCS (28.09.15)
We were so excited to take part in the Brownlee Triathlon! It meant we were able to sample the three events in a triathlon (swimming, cycling and running) as well as meet our Yorkshire heroes Jonny & Alistair Brownlee!! We all had our favourite events and it was lovely to see the children with smiles on their faces all day!
Girls Football @ Holy Family (22.09.15)
Holy Family Competitions 2014 - 2015
Bishop Roche Cup
Well done to the Netball team who, after making it through to the Bishop Roche Cup Finals, came an impressive 5th place. Well done for all your hard work this season ladies - you have made Mrs Walsh and myself very proud!
Year 2 Skipping Festival
Well done to our fantastic Year 2 skipping team! The whole of Year 2 took part in the festival run by our friends at Skipping School and after competing in various different skip routines our Year 2's came 1st place! Mr Biedka and Mrs Backhouse are very proud of you all!
Netball
Congratulations to the Netball team who have come 2nd in the Bishop Roche cup semi finals! They will compete in the finals on 1st July. Mrs Williams and Miss Walsh are very proud of their team. Good luck girls!
Girls Football
Congratulations to Mr Biedka's football team who have progressed to the West Yorkshire School Games finals on 7th July! They had tough competition from a variery of schools in the semi finals and are currently working hard on tactics for the finals. Good luck girls!
Holy Family Rugby Team
The Holy Family tag rugby team won the Leeds City School Games Cup!
20 schools from across Leeds qualified for the finals, held at JCCS.
The group winners were; Group 1- Blackgates, Group 2- St Mary's Horsforth, Group 3- Holy Family, Group 4- Rawdon St Peter's.
The Semi Finals; Blackgates beat Rawdon St Peter's 4-3 in the first semi final and Holy Family beat St Mary's Horsforth 3-1 in the second semi final
The Final; Holy Family are the City Champions after beating Blackgates 7-2.
Both schools have qualified to represent Leeds at the West Yorkshire School Games on 7th July at Leeds Becket University!
Our Under 11s football team took on St Mary's Horsforth in the final of the U11 Leeds & Holbeck Cup. The game played at Garforth Town was a very close affair. Unfortunately Holy Family lost 1 - 0. Well done to the team who have shown resilience and great sportsmanship throughout the competition.
On Tuesday 19th May, our Year 4 children took part in a Heptathlon. This event was an afternoon of fun, competitive activities at Swallow Hill high school. Several other schools from our Cluster were also there to compete.
The class was split into three teams and we are pleased to report that one of our teams won the whole competition! Well done to all Year 4 children for their wonderful achievement and outstanding behaviour.
Ann Maguire Fun Run - Friday 24th April 2015
On Friday 24th April, Holy Family took part in a Run for Fun event at St Theresa's Catholic Primary School. Every Catholic primary school in Leeds took part and there were over 2000 runners at the event.
Children ran or walked a 2km course on the school playing field.
All schools were raising money for the Ann Maguire Memorial Education Fund, which was created through donations made in memory of Ann Maguire, a well-loved and respected school teacher from Leeds who was tragically killed at school in April 2014. Co-ordinated by Leeds Community Foundation, the Fund will provide bursaries and funding for the enhancement and personal development of young people under 18 years old through music, drama, language and dance. Before the Run, the Fund had raised £81,000. We are so pleased to tell you that Holy Family parents and friends have managed to raise a whopping £1153 to add to this total! Thank you to everyone who sponsored our children and helped to raise money for this fantastic cause.
On Tuesday 28th April, our Year 2 pupils (Fundamentals) went over to Swallow Hill high school for an afternoon of fun sporting activities, competing against other schools in the local area.
The event was organised by Leeds Rhinos and led by Sport GCSE students from Swallow Hill.
Pupils skipped, relay ran and threw beanbags into hoops in their teams. Our Year 2 pupils behaved wonderfully and were a credit to the school. Holy Family placed 3rd overall, with Christ the King in 2nd place and St Bart's were the overall winners.
Our U11 team won their 9 a side league - they have not lost a game this season. They will now proceed to the Champion of Champions play-off against Horsforth West End in the quarter finals on the 8th June.
The team also reached the Leeds & Holbeck Cup Final with a wonderful 3-2 win against Ingram Road. The Cup Final will be at Garforth on Friday 15th May against Horsforth St Mary's.
The U10 football team also won their league on the final day of the season, winning 4-2 against Hollybush. They will now play St Anthony's in the Champion of Champions play-off (date TBC).
The U9 football team qualified for the Merit Table play-off by achieving second place in the West League Merit Table, which took place in order to decide who would be the Leeds FA U9 School Champions. Unfortunately we lost 2-1 to Strawberry Field in the quarter finals.
The girls' football team have qualified for the girls' play-off finals at Priesthorpe high school on Friday 8th May.
A massive well done to both Kacey and Logan!!!
On Wednesday 25th March, Kacey and Logan took part in the (Cross Country) West Yorkshire School Games finals at Leeds Beckett Park.
Kacey came an outstanding 1st place making her the fastest Year 4 girl in the whole of West Yorkshire!
Logan (a Year 3 pupil) ran in the Year 4 race and came an impressive 24th!
On Thursday 12 March, children from Year 5 & 6 went to Swallow Hill to take part in an alternative sporting experience. The events aim was to promote new sports, such as wall climbing, and saw the children scaling the dizzy heights of the secondary schools climbing wall!
The children also took part in team building games with children from our cluster schools. It was a relaxed and enjoyable evening for all!
On Wednesday 11th March, select children from Year 3 and 4 took part in the semi finals of the West Yorkshire School Games (Cross Country). This race differs from the league races on a saturday morning and sees the children running against children from all over West Yorkshire.
We had a brilliant afternoon and did exceptionally well!
Kacey (1st), Ebonie (3rd), Mae (9th) and Stephanie (20th)
Logan (3rd), Noah (10th), Callum (15th) and Sam (21st).
Due to the success, both Kacey and Logan have made it through to the finals of the West Yorkshire Games being held on Wednesday 25th March.
On Saturday 28th February, runners from Key Stage 2 made their way to Grammar School at Leeds to take part in the final Saturday morning Cross Country race of the year.
As always, our athletes did us proud and ran their very best with notable finishing places of 15th from Kacey, 49th from Valentine and 52nd from Logan.
We have had a fantastic cross country season and it is down to our wonderful and keen team of children who train week in, week out and in all weather conditions.
Thank you to all the parents who braved the weather to join us each Saturday morning.
Thank you for a wonderful cross country season everyone!
On Thursday 26th February, the Year 3 & 4 Sportshall Athletics team took travelled to Swallow Hill to represent the school in various sports such as triple jump, 2 lap and chest push.
The athletes were a credit to their school with special mention going to our 4 volunteer Sports Leaders from Year 5 (Aldona, Abigail, Louis and Steve) who were there to help with the organisation and running of the event.
Other schools kindly mentioned how wonderful our leaders were!
On Thursday 5th February, it was the turn of the Year 5 and 6 Sportshall Athletics team to show off their sporting skills at Swallow Hill High School.
The competition, which includes schools from our cluster, offers the opportunity for athletes to take part in a variety of events including vertical jump, 6 lap parlaaf and javelin.
Well done to all who took part!
On Thursday 29th January, the Year 6 girls took part in an inter school Netball competition at Swallow Hill.
The girls were a credit to school as they showed excellent passing skills and managed to win the majority of the games. The girls also were great sportswomen who played a much softer game against a less experienced side. Well done girls.
On Thursday 22nd January it was the turn of the Year 4 boys to enjoy their fun sporting festival at Swallow Hill.
The boys enjoyed playing 3 different sports (dodge ball, handball and hockey) against other children from our family of schools.
It was a great event and the boys behaviour was excellent.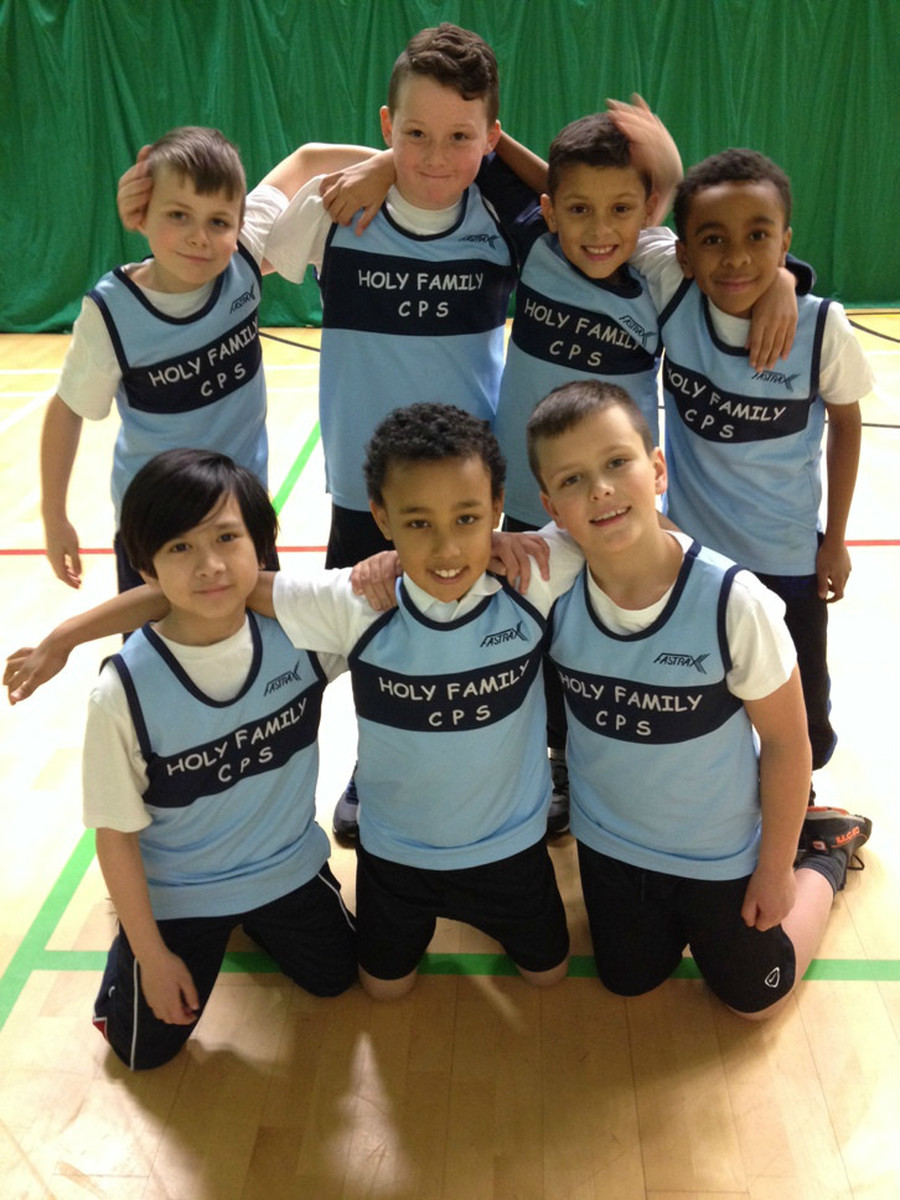 Well done to the Year 4 girls team who attended a fun sporting festival at Swallow Hill on Thursday 15th January.
The festival was to encourage the girls to try new sports and included dodgeball, handball and hockey.
The girls really enjoyed it!!