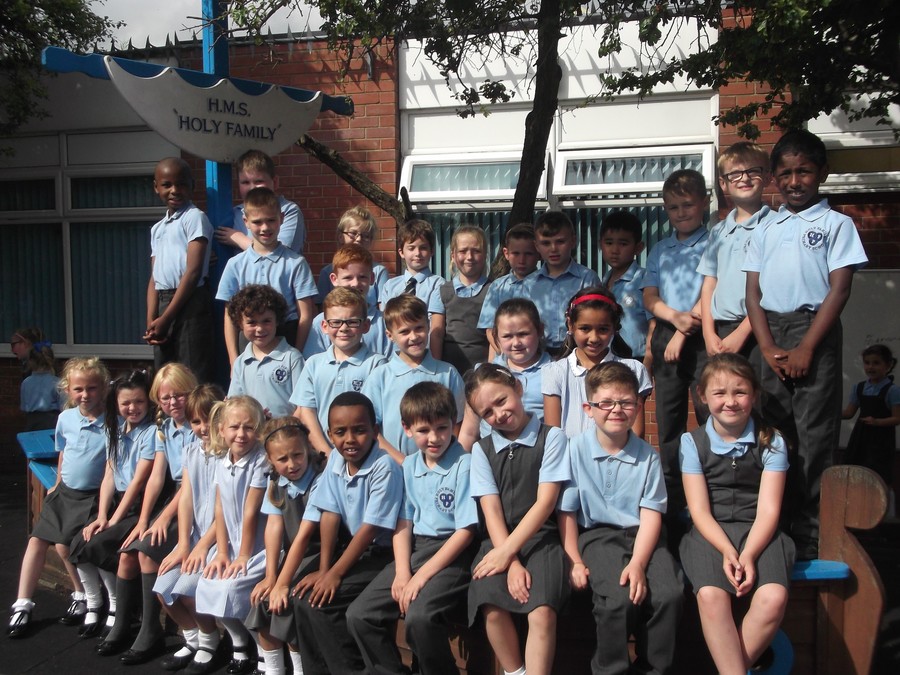 We are Year 3 and we are the best class in the whole school!
There are 31 of us and each of us is special. We are ready for a year of growing and a year of fun at Holy Family.
In our class there is Miss Coleman, Mrs McHale and Mrs Merdani.
Can you spot anyone you recognise in the photo above?
We had a 'lava lava' fun
As part of our Science topic, rocks, volcanoes and fossils we decided we would make our own volcanoes. We made the volcano from a plastic bottle, newspaper and paint. We then got creative using bicarbonate soda, vinegar, washing up liquid and food colouring to create our very own eruptions. There was a lot of shrieking and running away!
Fantastic Mr Fox... really was FANTASTIC!!!
As part of our guided reading sessions we have been studying Fantastic Mr Fox as both a story and a play script. We have been developing an understanding of how play scripts and stage productions are produced. On Wednesday 28th June 2017, we took a bus to the historic Alhambra theatre for an afternoon showing of the play. Here are some photos showing the fun we had!
Bradford Science and Media Museum
As part of our topic studying the science of light we visited the Science and Media Museum. We had so much fun! We watched a documentary at the IMAX cinema in 3D. We had to wear special glasses and it felt like we were actually Walking with the Dinosaurs. Some of us nearly jumped out of our skin with some of the special effects.
We had fun walking around the Wonder lab, running through the mirror maze, going into a room with UV light and taking crazy photos of ourselves.
We were the first school to have an official viewing of a show called 'Light it Up'. Rosie was amazing she showed us all sorts of experiments teaching us about refraction, reflection and space!
We had an 'Egg-celent class competiton!
We had a great afternoon this week decorating eggs and had an egg and spoon race. The eggs were brilliantly decorated, although by the end of the races there wasn't much left of them! Here we are having fun in the sun :)
Tong Garden Centre and Pudsey Park
29th March 2017
We went to Tong Garden Centre in the morning for a workshop with Phil and Claire. They were very friendly and knowledgeable about plants and gave us lots of information about different plants and flowers. We split into groups and we did a quiz and discovery trail searching out all the plant types. Then we partnered up with a friend and got to plant our own flowers and herbs. We loved Tong Garden Centre!
Harry B "my favourite herb is the mint one, it smells really nice."
Julia and Harry B "best day ever, but not great weather!"
Sam "my favourite part of the day was planting"
I think we may have some future gardeners in this class!
Planting with Mr Webster
22nd March 2017
We were very lucky to have Mr Webster our parent governor to come in and help us plant some flowers for the Holy Family prayer garden. Here are some photos of us in action, getting our hands dirty! A big thank you to Mr Webster for volunteering his time to come and help us :)
World Book Day
2nd March 2017
Today has been World Book Day and we have had a fantastic day! The costumes that our families have helped us to make have been brilliant. A big thank you! We had a lovely assembly this morning and we have spent today doing reading activities about our favourite heroes and villains.
Scooter Training and Road Safety Awareness with Leeds City Council
We have been really lucky to have the Road Safety team in school today from Leeds City Council. We have had the opportunity to practice using scooters on the roads. For those of that can't ride scooters we've learned to do it. We had a really good chat about how to stay safe in a car.
Here are our top tips for children in the car:
Year 3 Visit to Leeds Grand Mosque
2nd February 2017, we visited Leeds Grand Mosque as part of "Other Faith Week". When we got there we had to take our shoes off before we went in to keep the area clean. We learnt that Mosques do not have seats, they have a very soft carpet and people pray on the floor. We learnt about the different times of day Muslims pray and they have a special clock in the Mosque that tells them the times of prayer. Then we listened to Asaad sing the call to prayer that is played across speakers to the community. We learned about the 5 pillars of Islam, the Qu'ran and important people in the Islamic faith. We learnt the difference between Islamic clothing and traditional clothing from countries where Muslims are from. We didn't have time to drink the juice we were given so we had it in class with some chocolate.
Year 3 Trip to Magna
17th January 2017, we ventured on our first school trip of 2017 with Mrs Rees, Mrs McHale and our new teacher Miss Coleman. We took a 45 minute drive to Rotherham and found ourselves at an old steel factory, it was enormous! First, we went to the Fire Pavilion and watched the Big Melt, this showed us how in the 1970's they used to make steel. It was very loud and some of us were a little nervous as we had to walk along walk ways high up in the air. We then went to the air room where we walked through gale force winds and saw a tornado form. After that, we had our yummy packed lunches. Then we went to the Earth room, here we became digger drivers and miners and had to try and get the coal production line working again. Finally, we went to the water room, some of us got a little wet! It was a really fun day out! 5 *** rating from year 3!
This is our new Year 3 teacher, Miss Coleman.
"I am very excited to be working with Year 3 and Mrs McHale and Mrs Merdani!"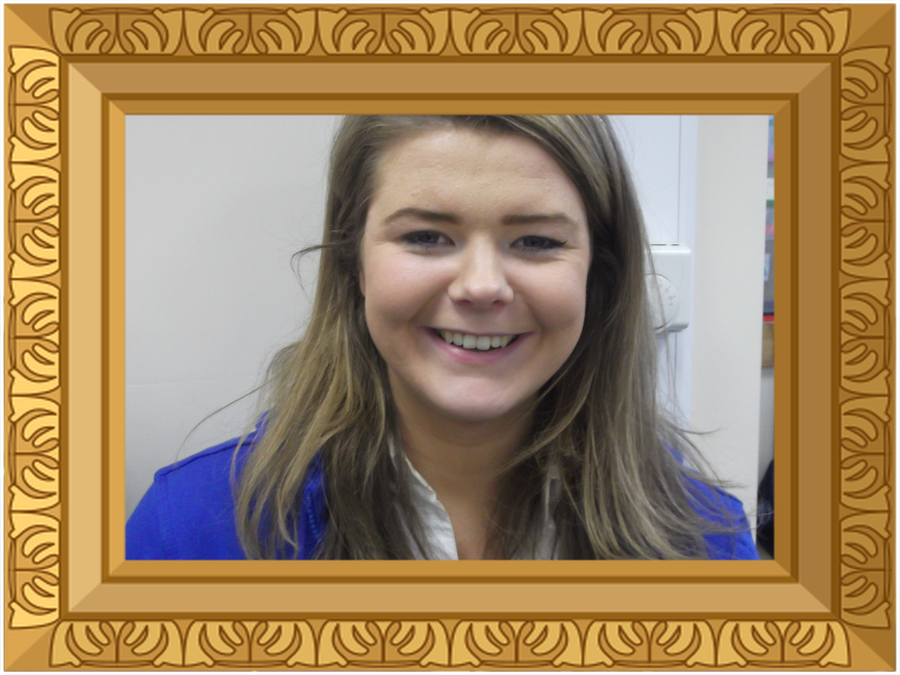 Don't we look great in our Christmas jumpers? We had a fun day of making decorations and getting into the Christmas spirit!
This was a really fun day. We made a snow globe to sell at the Christmas Market.
By Darel.
We all loved this day, it was so fun.
By Kian
Today was a good day because we decorated our class tree to help prepare for Christmas.
By Indi-Lei
December 2016
We had the most amazing time at Armley Mill. We went into the Victorian classroom and had to pretend to be Victorian school children. The teacher was re ally strict but and showed us all the strange punishments there used to be. We even had Victorian names. When you see us in school, ask us about our favourite part of the day.
My best part of Armley Mill was when I wrote in my copy book.
By Rhys J
I enjoyed it even though it was really hard to write with pen and ink.
By Maisie D
It was really fun because we got to do Victorian P.E. (actually called 'drill') and write in our copy books with pen and ink.
By Harry R
We found out about some Victorian punishments like how the teacher used the cane if you were messing about and fidgeting.
By Tristan
November 2016
We had a wonderful visit to Tesco in Seacroft! It was part of the Farm to Fork initiative that helps children to see where their food comes from.
"It was really fun and we got to see where the fish came from!" Harry R
"We went into the big fridge and freezer - it was very cold! Brrr!" Julia
When we came back to school we got to eat some of the food we had been looking at!" Darel
"We looked at different types of fish and we even got to look into the fish's mouth!" Bailey
Finally, when we returned to school, Catherine, who had been showing us around Tesco, sent us a wonderful email...
"Hi. I would just like to say thank you for bringing your class to Tesco Seacroft for the Farm To Fork Trail. Your children are are credit to the school. They were all very well behaved and well mannered. It was a pleasure having them all here.
Catherine Tunnicliffe"
Wow! Well done Year 3! :) October 2016
We were lucky enough to have a visit from our Chair of Governors, Mrs Hunter, today! She came round to see how we are getting on in Year 3 and asked us all about our classroom and what work we had been doing. It was lovely to see her, again.
October 2016
Some of Year 3's opinions on our classroom ...
"In Year 3, we have talented people who have their work hanging from the ceiling."
Maisie D.
"The beautiful class is full of creative displays that help us to do our work."
Joshua L.
"In Year 3, we have a beautiful reading corner full of interesting books."
Milena.
September 2016
We have really enjoyed our Music lessons so far this term. Miss Lee is a wonderful teacher who has been playing her ukulele and teaching us new songs. We can't wait to see what we will learn next!
September 2016