Welcome to Year 3! We are looking forward to learning lots in the Spring term. Our teachers Mrs Williams, Mrs Coleman and Mrs McHale are ready for a busy and fun filled 2018 with the best class in the whole school! Can you spot anyone you know in the pictures below?
Tuesday 24th April
Today, we went on an amazing school trip to Bradford Media Museum.
In the gallery, there were lots of interesting things. We saw the first ever camera! (Weronika)
We saw a short film at an IMAX cinema. It was 3D so it felt like the animals were touching us. (Lathan)
Next, we visited the Wonderlab. Some of us got invisible tattoos and you could only see the tattoos under ultra-violet light. (Maja)
My favourite part of the day was playing video games with my friends. (Ethan)
Thursday 29th March & Monday 9th April
Year 3 & Year 4 joined forces to perform their version of the Easter Liturgy. It was fantastic and really got us ready for the Easter holidays. It was also a super way to start a new term and settle us into our school routine after a lovely week off.
"I really enjoyed the performance even though it took a lot of rehearsals!" (Katelyn)
"I enjoyed the Resurrection Rocks performance because parents were able to come and see us!" (Dean)
"We were really happy with how clear our words and singing were" (Giuseppe)
"I am proud because we all did really well and were really professional" (Charlie R)
Fundamentals @ SHCC, Tuesday 20th March
We went to Swallow Hill to compete against other schools in a variety of activities. We were split into three teams of 10 and had the best time!
" I liked the skipping the best because it was fun and we did lots of exercise!" (Donna-Marie)
"I really enjoyed the throwing and catching because we got to work in pairs" (Lexie)
"I liked the sprinting because it helped me to be a better footballer" (Harry)
"I liked the bean bag target because it improved our throwing skills" (Markh)
Reconciliation, Saturday 17th March
We have made our Reconciliation!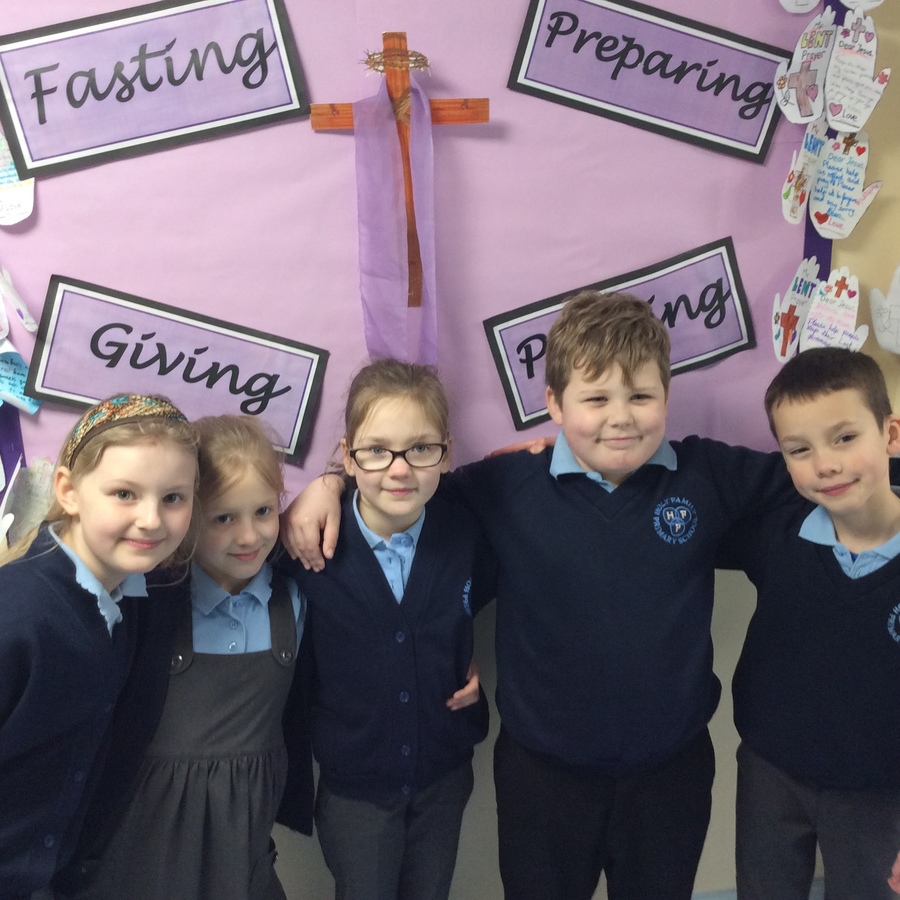 Science, Thursday 15th March
We have spent the day planting our cress seeds as we are learning what is needed for a plant to grow well. We can't wait to see how they grow!
"I hope that our seeds grow and turn into wonderful cress seeds!" (Charlie T)
"I have never planted anything before so this was really good for me!" (Filip)
"I enjoyed planting the seeds because I love to see things grow" (Maja)
"It was a different type of lesson to usual!" (Ethan)
World Book Day, Tuesday 6th March (date changed from Thurs 1st March due to the snow!)
We had an amazing day dressed as our favourite book characters. We did loads of activities and we loved going into the assembly hall to see all our friend's outfits!
"World Book Day was good because we dressed up and it was fun, even if you didn't win!" (Olivia Ann)
"We dressed up as fairytale characters" (Ehsan)
"I enjoyed dressing up because it was my favourite part of the year" (Layla)
"everyone enjoyed their costumes and even the hairspray looked good!" (Igor)
Assessment Week, Monday 26th - Friday 2nd March
Assessment Week can be scary but not for us! We tried our best and were happy with how much our confidence is improving with each set of assessments we do. We were lucky enough to use an empty classroom so we were able to spread out to concentrate on our work.
English Lesson, Friday 23rd February
We have been reading the Greek Myth of Theseus and the Minotaur. We used all our best adjectives, adverbs and our amazing imaginations to create descriptive sentences to describe the Minotaur. We even scared ourselves with how good they were!
Year 3 Collective Worship Assembly, Wednesday 21st February
We did extremely well in our Collective Worship Assembly. Loads of our parents came to watch us explain all about the Chinese New Year and how this 2018 is the year of the dog.
"We even acted our the story of The Great Race using animal masks that Mrs McHale created for us" (Weronika)
"We were loud and clear with our words" (Dawid)
"I liked doing the assembly because although we were teaching other children about it we learnt stuff too" (Clara)
"My favourite part was when Dean jumped on my back!" (Lathan)
Valentine's Disco, Friday 9th February
We were super excited to be going to our Valentine's Disco after school! We danced and sang the afternoon away! Don't we look cool?!
"I enjoyed the disco because we got to dance to all our favourite songs" (Oliwia)
"I loved the disco because we got to sing along as loud as we wanted" (Fallon)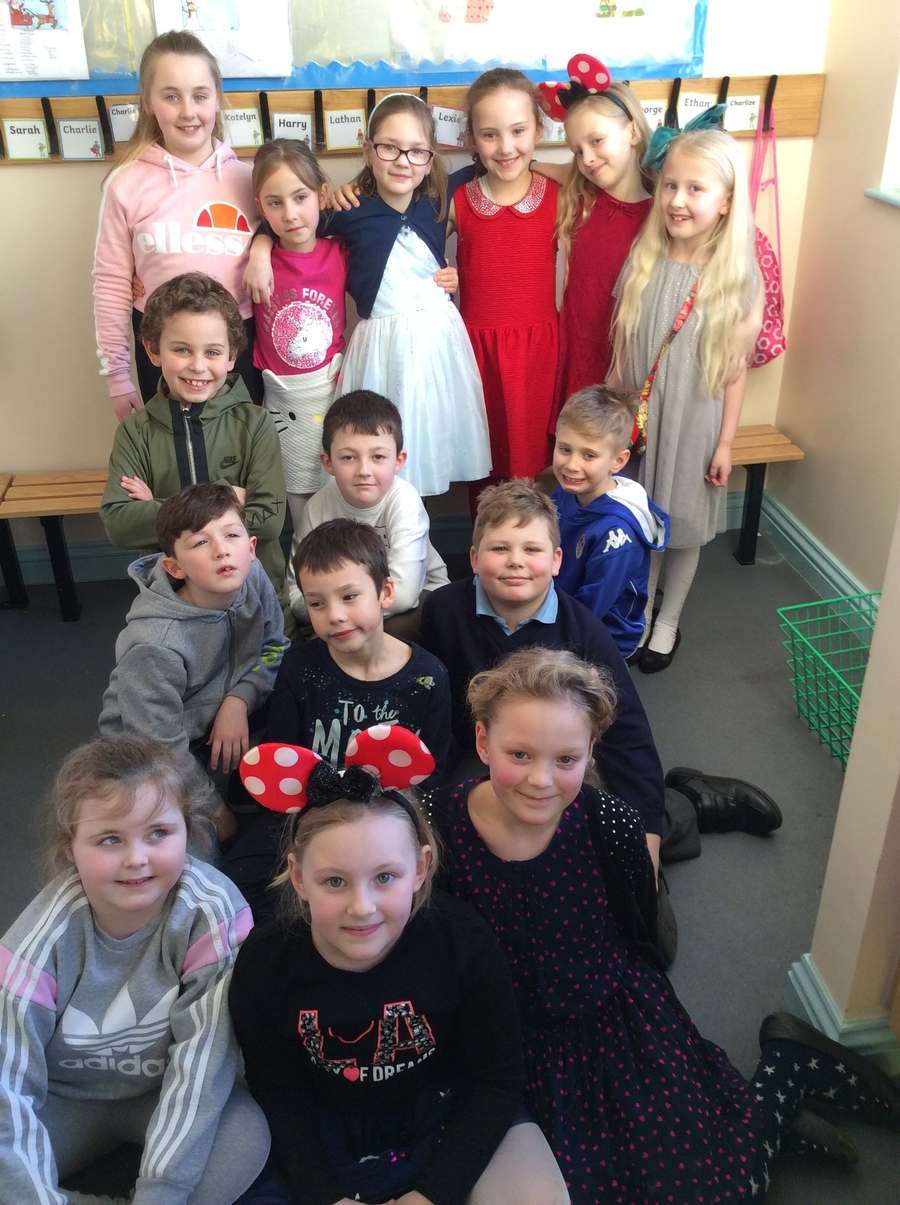 Year 3 visit to Magna Science Adventure Centre, Thursday 8th February
We had the most amazing time at Magna! Magna has 4 different pavilions for us to explore. They are Air, Water, Fire and Earth, although it was really cold, it was interesting and fun! We also got some time to play outside on the adventure playground before heading back to school. We were exhausted by the end of our visit but we learnt lots of interesting facts.
Music lesson, Wednesday 31st January
Listen to our recording of Hard Time Blues with Miss Lee.
Computing lesson, Monday 22nd January
We love playing on the iPads and laptops but we also know we can use them for work too. We have been learning how to keep ourselves safe whilst online through our E-Safety topic in Computing.
Swimming, Friday 19th January
Enjoying a very cold walk to swimming with Mrs Williams, Mrs McHale & Miss Clayton!
"I love swimming because it helps me to swim better" (Sarah)
"I love swimming because it'll help me to be a lifeguard when I grow up" (Jim)
"My water skills have really improved" (Maya)
"Swimming is awesome because I have never floated before" (George)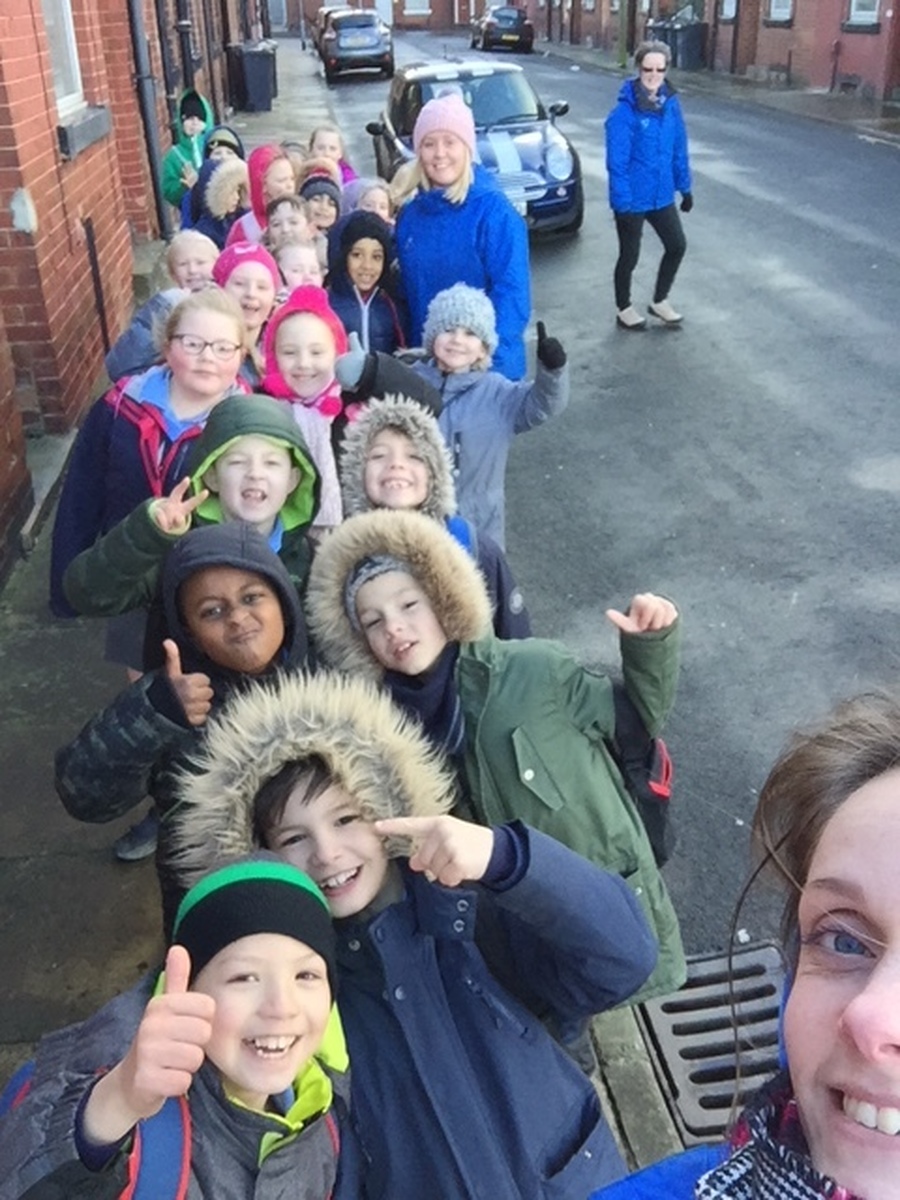 English lesson, Friday 12th January 2018
We worked with our partners to describe the setting of our adventure story. We had to use our imaginations!
Science lesson, Tuesday 9th January 2018
We are learning about Forces & Magnets. We discovered what was magnetic in our classroom and then measured the friction of different surfaces using toy cars borrowed from Reception - thank you, Mrs Walsh!
Ukulele Lesson, Friday 15th December 2017
We had the most wonderful ukulele lesson with Mr Mercer on Christmas Jumper Day. What a treat! We recapped on the skills we had learnt in Year 2 and then played along to some Christmas classics!
Year 3 visit to Armley Mill, 7th December 2017
Yesterday, our class visited Armley Mill. We went there because we have been looking into the past and learning all about the Victorians.
We were greeted by a man called Tom who was to be our Victorian teacher. We had to call him 'Master'.
He was really strict but by the end of the lesson we understood what it was like to be a Victorian child going to school.
Afterwards, we had our lunch and then visited the Mill Owner's cottage. It was like stepping back in time! We discussed what types of jobs Victorian children would have had such as; cleaning the range, collecting water, knitting, cooking food and cleaning the home.
As you can see from our photos below, we had an amazing time! Getting dressed up certainly helped us get into the role of Victorian children.