Sunday 18th June 2017
We made our First Holy Communion, Sunday 18th June.
There are a number of people we must thank for their contribution in helping us make it to a special day.
Thanks to Father Pierce for conducting the ceremony and the parish of Holy Family that have prayed for us at this time. We would like to say a huge thank you to all the staff from Holy Family Catholic Primary School that came in to prepare the special breakfast we shared with our friends. Thank you to Mrs Duffy for leading our Holy Communion classes every Monday after school. Thanks to our families and friends that have supported us in preparation for this day. There have been so many people that worked hard to make sure all ran smoothly and it would be impossible to name everyone that has helped.
Maundy Thursday Liturgy
During the Maundy Thursday Liturgy, 12 First Holy Communion participants were asked to have their feet washed by Mr Strong. This is a significant symbolic act showing the importance of serving others. The children were very respectful during this act and it was a lovely preparation for the important sacrament they will be making in June.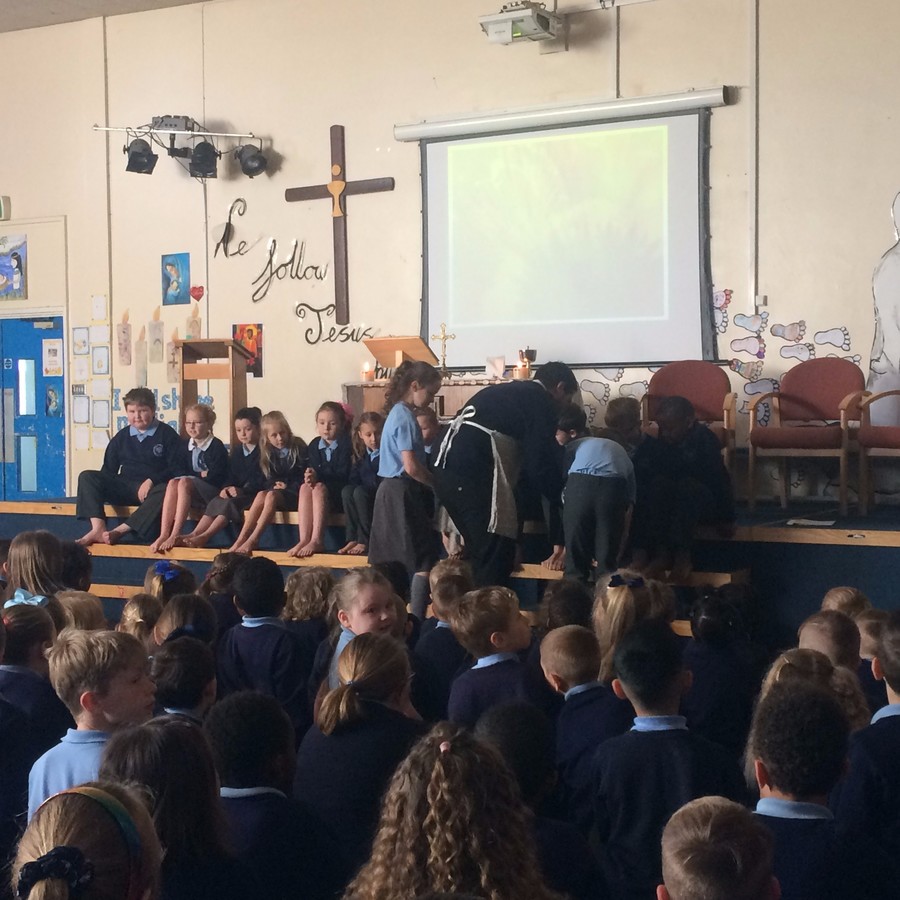 First Holy Communion - Reading at Mass
On Sunday 12th March 2017, the First Holy Communion participants will be taking part in Mass. They will be reading and taking the Offertory.
All FHC participants must attend this Mass. Please arrive by 10:15am for the Mass to start promptly at 10:30am.
They shall be sat at the front of the church (with the school staff). This is all part of the children's journey to making their First Holy Communion.
First Holy Communion - Lessons
Lessons will start on Monday 23rd January 2017. The lessons will be taken by Mrs Duffy after school. Children should be picked up from the office at 4:15pm.
Please make sure you bring your 'I Belong' book with you each week. Homework will be set each week for the children to complete with you.
The book is an important part of the journey of learning for the children.
First Holy Communion - Enrolment Mass
Well done to all those who took part in the Enrolment Mass on Sunday 27th November at Holy Family Church. It was wonderful to see so many smiling faces and the readers were very clear and loud!
First Holy Communion - participants 2016 - 2017
Don't we look excited to be making our First Holy Communion?!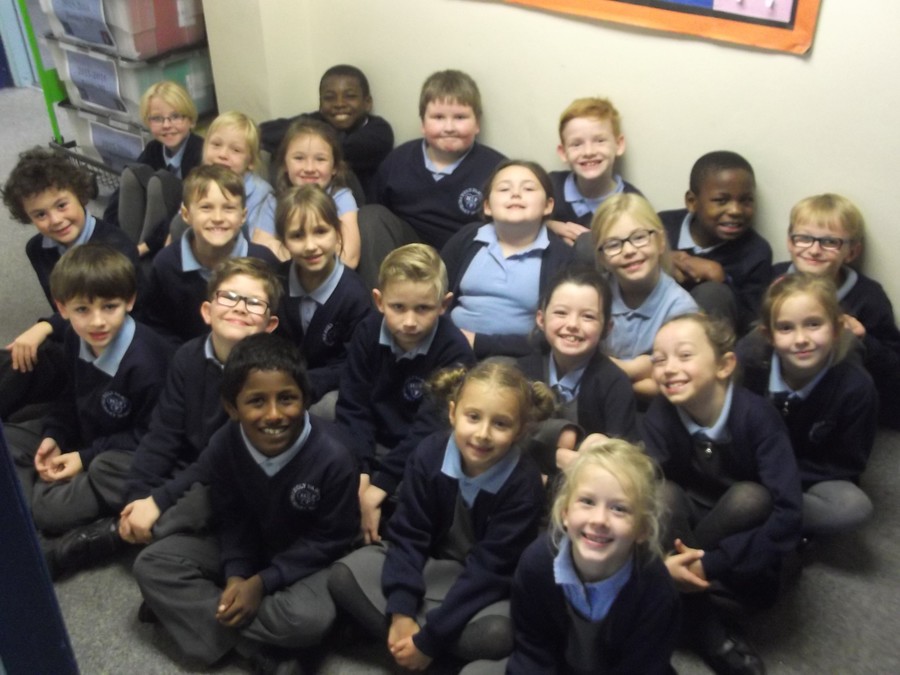 Holy Communion participants 2015 - 2016
Don't we look wonderful at our First Holy Communion?!
Thank you to our parents for helping us prepare for this Sacrament and to Fr Pearce for performing the Sacrament.
We all had an amazing day and we especially enjoyed our Holy Communion cake!
First Confessions - Wednesday 27th April at Holy Family Church at 4:00pm
Congratulations to all the children who made their First Reconciliations at Holy Family Church!
Mass led by First Holy Communion candidates
Sunday 13th March 2016
Well done to our First Holy Communicants who read so well at Mass today! We were so proud of your loud and clear reading. It was obvious you had been working hard learning all your words. The weather reflected the mood as it was surprisingly bright and sunny! :)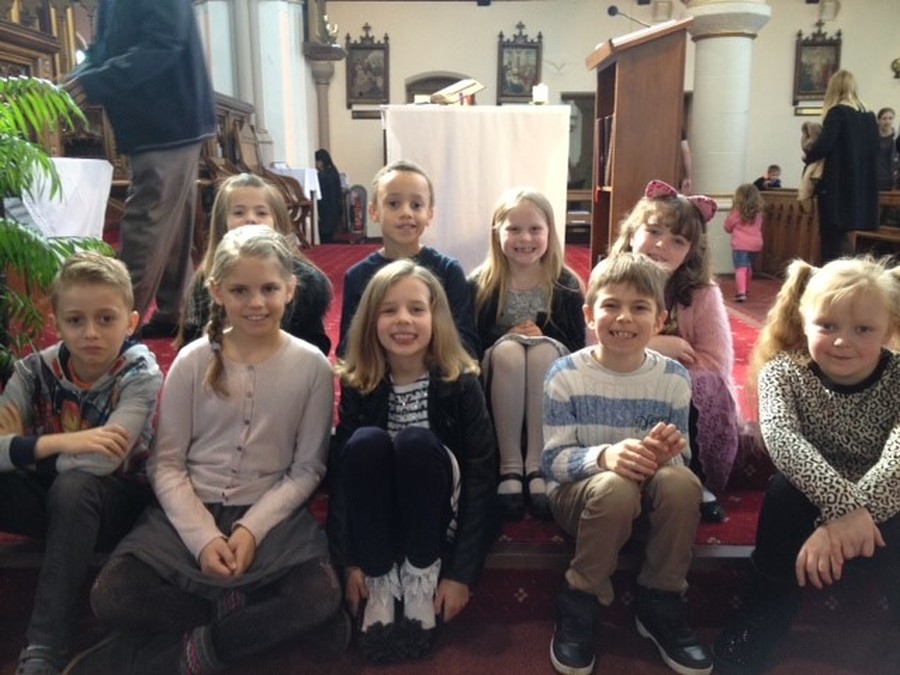 Enrolment Mass 2015 - 2016
Sunday 29th November
Congratulations to all the children who attended Mass at Holy Family Church today. All children have now received their 'I Belong' book which will help them to prepare for their Holy Communion in June 2016. Well done to all those who read in Mass, your reading was beautiful and clear!
Children must attend either Saturday evening Mass or Sunday morning Mass at Holy Family church to receive their stickers in their 'I Belong' books.
Look at our beautiful Holy Communion participants from 2014 - 2015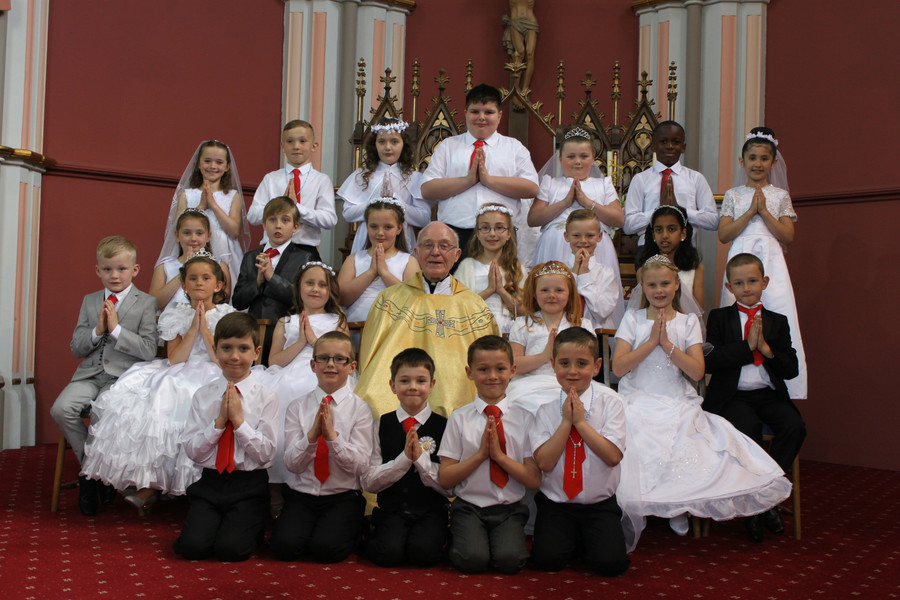 May 2015 Update
Congratulations to all our children who made their Holy Communion this weekend! You all looked wonderful and really understood what the Sacrament was about.
April 2015 Update
There isn't long until our children make their First Holy Communion! Although the children seem calm, a few have mentioned how excited they are! Remember to send the letter and money for your children to part of the Holy Communion breakfast on Sunday 17th April back to school.
March 2015 Update
Our children are taking the next step on their journey to enjoying the Sacrament, as on Thursday they are making their First Confessions at Holy Family Church under the guidance of Fr McGarth.
January 2015 Update
First Holy Communion lessons will begin on Monday 12th January. Children must bring their 'I Belong' book to school every Monday to take part in the lessons and successfully prepare for their First Holy Communion.
Sunday 30th November 2014
Congratulations to all our First Holy Communicants who enrolled on the preparation course on 30th November at Holy Family Church. We were very proud of how well you all read at Mass and very happy to have welcomed Bishop Marcus Stock, who was there to celebrate Mass with the children.