Miss Nicholson and Mrs Woolley welcome you to Year 4!
We are very excited to have lots of fun this year whilst working very hard of course.
Wednesday 17th April
French
Year 4 enjoyed learning about French traditions relating to Easter. We studied an Easter poem and wrote our own versions.
Joyeuses Pâques à tous!!!
27th March
Class Visit to Temple Newsam
Do you think we look like real Tudors?
7th March
World Book Day
Have a look below at our fantastic World Book Day costumes.
26th February
P.E
After months of hard work and preparation, today we took part in a skipping competition at Mount St Marys. We all did really well and are very proud of ourselves.
14th February
French
Joyeuse La Saint Valentin!
We had lots of fun today making St Valentine's cards.
10th February
French
We have been learning how to say the names of zoo animals.We read the story 'Au Zoo' and made triarama zoo scenes .We wrote simple sentences describing the animals using adjectives.Here are some photos.
8th February
Topic/ Art
Today, we worked on our drawing skills to create these sketches of Henry VIII
5th February
English/ History/ Art
In English, we have been learning how to write newspaper reports. Because we have been learning about the Tudors, we wrote newspaper reports all about the Battle of Bosworth. The Battle of Bosworth was between Richard III (a Yorkist King) and Henry Tudor (another claim to the English throne), it brought about the end of The War of the Roses which had been raging throughout England for over 30 years.
We were extremely lucky as we had a visit from Henry Tudor himself! We interviewed him, then used his responses in our reports.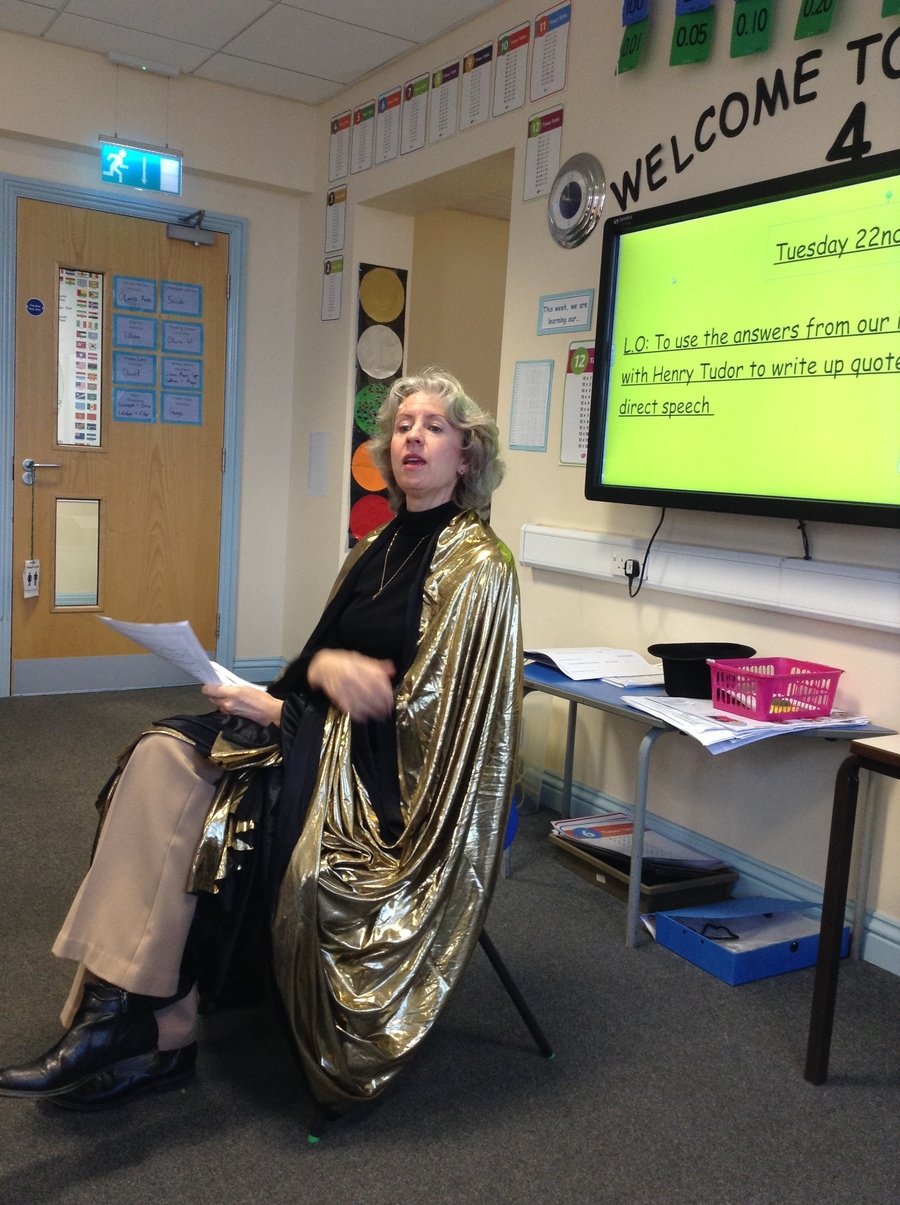 We also painted Tudor Roses to remind us about what happened after the Battle. Richard III died and Henry Tudor of the House of Lancaster was now King Henry VII. He united the Red Roses and the White Roses by marrying Elizabeth of York.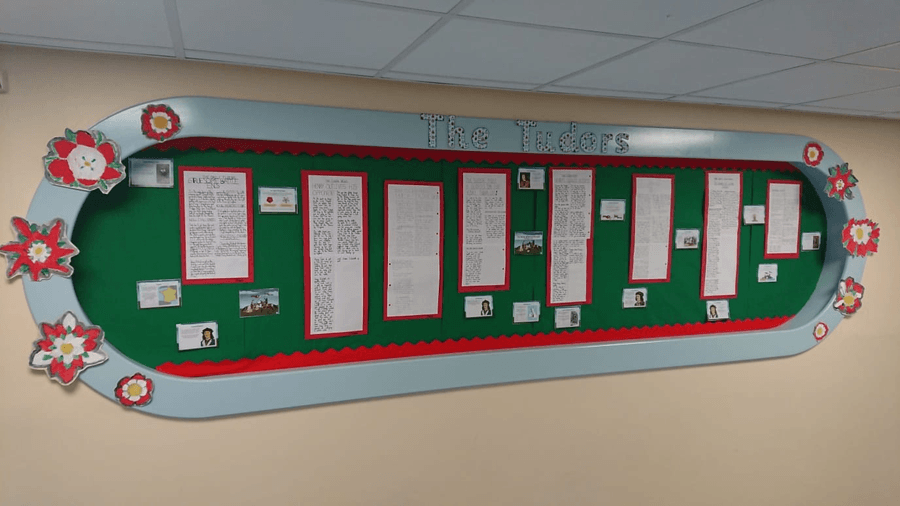 29th January
Maths
In Maths, we have been using different equipment to help us develop our reasoning skills. Today, we were given a fraction of an amount and we had to find the original number. We had fun using counters to help us to prove our answers.
21st January
Science/ P.E
In Science, we are learning about electricity. Today, we modelled the flow of electricity in a circuit to help us understand what is happening in a circuit. Markh pretended to be the cell- he created the push. Once the circuit was fully connected, electrons (foam balls) moved around the circuit. Immediately, the light bulb lit up. We learned that, however large the circuit, the bulb will light instantly as there is an electron right next to it; it does not have to wait for the electricity to get to it as the electricity is the movement of electrons.
18th December
R.E/ Art
Before we celebrate the Birth of Jesus, it is important for us to have some knowledge of the Trinity in order to grasp that in Jesus, God comes to earth and that he is truly and Fully God in human form.
In today's R.E lesson, we compared different artistic interpretations of the Holy Trinity. We then imagined that we worked in an art gallery and wrote descriptions that could be displayed with each piece of artwork.
WC 26th November
Faith through Art week
This week, our lessons have been a bit different because we have been learning all about the Hindu Faith. We started the week of by reading and discussing the, 'How to be Good Code,' published in a children's Hindu magazine. We looked at the values and created a pyramid with the value we agreed with the most at the top- we realised there are a lot of Hindu values that are very similar to Catholic values. We had fun creating a, 'How to be Naughty,' list to enable us the gain a deeper understanding of how Hindus live their lives.
We week has been full of other exciting activities. We have:
Made traditional Hindu bread.

Visited a Hindu temple.

Eaten a Hindu feast.

Learned about how Hindus celebrate Diwali.

Learned about the Hindu Creation Story.

Used water colour pencils to create images of Brahma.
19th November
Science
This half-term, our science topic is sound. We will be developing our vocabulary for describing sounds and identifying different sound sources. When working scientifically, we will look for patterns between the volume of a sound and the strength of the vibrations that produced it. We will also explore the pitch of a sound and ways in which it can be changed.
During today's lesson, we used ear gongs to investigate the statement, 'Is it harder to hear with your fingers in your ears?' We used our findings to make judgements on how we feel sound travels best.
22nd October- 26th October
FOREST WEEK
This week, some of our lessons have been a little bit different because it has been Forest Week. We have had a great time using local woodland areas to work on our cooperation and problem-solving skills, as well as, building our confidence and self-esteem. Have a look at some of our pictures from Fanwood Scout Camp and Swillington Organic Farm.
WC 15th October 2018
History/ English
This half-term, our history topic is the Anglo-Saxons and the Vikings, we have particularly enjoyed learning about Anglo-Saxon and Viking rulers. In English, we have been learning about how to write a biography so we decided to link this learning with our topic and write a biography about King Alfred the Great. Have a look below at the impressive writing that we produced.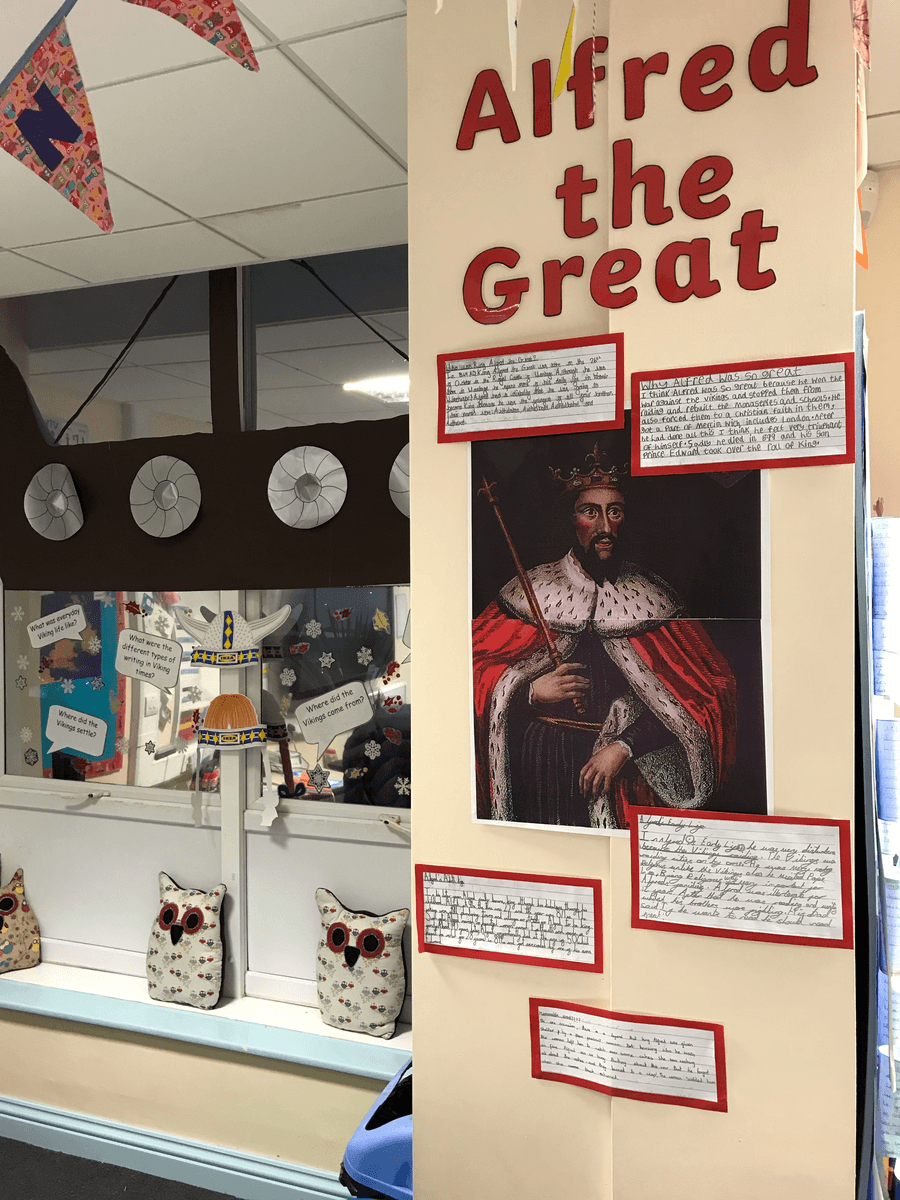 September 2018
Spelling
This year, we will be working really hard to improve our spelling. We will be using lots of different strategies such as rainbow letters, spelling pyramids, making words into pictures, bubble writing and many more! Look below to find pictures of us practicing our spellings, as well as, an image of all the words we need to know by the end of Year 4!