A huge hello and welcome to Year 5's page!
Teacher: Mrs Flanagan
Support Staff: Miss Conroy
Here we will share pictures and information about some of the interesting things we have been doing in class.
We hope you enjoy it!
Thursday 22nd June
We had a great time practising some martial arts with the experts from Premier Martial Arts group in Bramley. We learnt that it is important to have discipline whilst training and in our lives too. Here are some pics of us:
Wednesday 14th June
What a fab day!! We absolutely loved our Music lesson this morning with Miss Lee. We learnt the song Happy by Pharrell Williams and learnt about keeping the tempo by 'doing the bear'! Here are some pics:
This afternoon we had some visitors from Mount Saint Mary's called Mr Fox and Mr Addison. They taught us all about growth mindset and how important it is for us. They taught us about the different learning styles and techniques to improve our memory such as putting information into categories, using mind maps and being positive. We will be visiting Mount Saint Mary's High School in a few weeks time to see what life is like there and meet more of the teachers. Mr Fox and Mr Addison entertained us all with their humour and enthusiasm. Thank you for coming to visit! Here are some pics of us learning to count to 10 in Japanese and working collaboratively on mind maps!
Tuesday 16th May
Today, 2 of our Year 5 children went to Pudsey Civic Hall to see the Leeds Book Awards. They were invited along with lots of children from other schools who also took part in this exciting reading project. They had the opportunity to ask the authors questions and to meet the authors and get their books signed! The children had 6 novels to read, discuss and write reviews about before they could vote for their favourite. They really enjoyed the sessions with Mrs Woolley who was kind enough to take them along today. A HUGE thank you to the children (4 from Year 6) and Mrs Woolley who worked super hard to read all the books in only a few weeks!! You have been fantastic!! Here are some pictures from the awards:
Friday 28th April
Today, 15 children from our class visited the new Brownlee Centre opening ceremony at Boddington Hall. The children were privileged to be able to ride around the 1 mile track and were trained on the racing line and how to corner when riding in a racing competition. They were lucky enough to meet the Brownlee brothers who opened the new cycling venue with a huge pair of golden scissors! They also got to meet another triathlon star. There were lots of media crews around so look out for us on Look North tonight to see if you can spot us!! Here are some pictures from the day:
Wednesday 19th April
This week we began our new topic all about the Maya (an ancient civilisation that lived in Mexico) and our new Science topic all about Earth and Space. Today we went on a fact hunt around our classroom to find out some interesting facts about our Solar System. Here we are enjoying our fact hunt:
Thursday 13th April
This week is Holy Week and we have been doing lots of work around what it means to us. We created a poster with lots of information on the special days during Holy Week: Palm Sunday, Maundy Thursday and Good Friday. We have written a newspaper report on the death of Jesus on the cross and we have also created these beautiful stained glass window crosses using tissue paper. Our Easter egg hunt in class was super fun too! Happy Easter everyone!!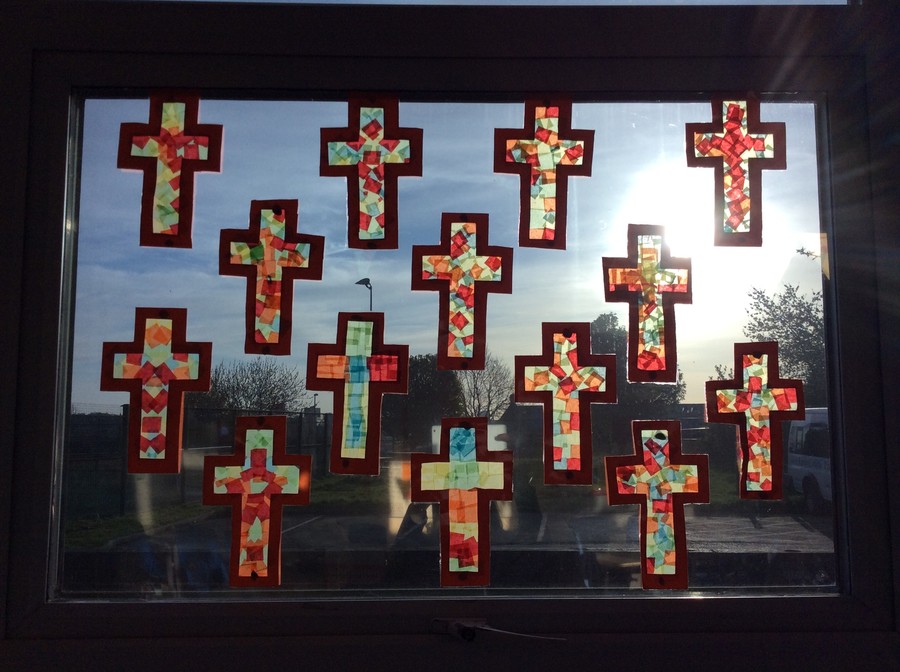 Thursday 2nd March
We celebrated World Book Day. We all dressed up as heroes or villains and we looked fab!!
Thank you to all the parents who helped make us look amazing!!
We created our own wanted posters for our own invented villains and also invented our own hero or heroine. Here are some pictures of us in our costumes:
Wednesday 22nd February
Year 5 had our class assembly. We were fantastic!! We remembered all our lines and our singing was beautiful too. It was so lovely to see so many parents and other family members that had come to watch us. Thank you!! Here are some pictures from our performance:
Friday 10th February
We had the bikeability trainers in. Ann taught us how to check to make sure that our bikes were properly safe before we began to ride them. She trained us how to ride our bikes safely and how to manoeuvre around obstacles. Although it was freezing outside, we still really enjoyed it and had lots of fun. Here are some pictures of us:
Monday 30th January
Year 5 visited the Buddhist Centre in the centre of Leeds as part of our Other Faiths week. When we arrived, Craig and Kerrie welcomed us. First, Craig guided us through a meditation session all about love and kindness. We then split up into groups to learn more about the special objects in the room and about key promises Buddhists make. We will be learning lots more about the Buddhist religion this week. We will be creating Bodhi leaves with the story of the Enlightenment of the Buddha, making lotus flowers and creating rules for display in a Buddhist Temple.
Here are some pictures of our visit:
Wednesday 18th to 20th January
We went on our residential to Castlerigg Manor. We had an amazing time there. We did lots of fun things, ate lots of lovely food, strengthened our friendships and most importantly we reflected on our faith.
Parents, other family members and friends, please come and join us for our assembly all about our time at Castlerigg on Wednesday 22nd February at 9:15am to learn more.
Here a just a few pictures of us:
Wednesday 4th January
Today was the first day back at school after the Christmas holidays!!!!
We had D-Side Dave in class to talk to us about the dangers of solvents. He told us the effects they have on they body and taught us what some of the symbols mean that we might see on the side of some bottles and cans such as: flammable, corrosive and irritant. Dave also told us about peer pressure. If we were ever in a tricky situation, he told us to just say no, walk away, make an excuse or give some facts to try to persuade the people not to do it.
Wednesday 7th December
This afternoon we took part in our second ballet workshop. Keisha was a dancer from Northern Ballet who taught us and talked us through the Beauty and the Beast ballet that we are going to see next week. We also had Elena who played the piano for us so we even had live music from the Beauty and the Beast show. What a fantastic afternoon! Here are some photos:
Wednesday 9th November
We had our class assembly this morning on World War 1. We had some children do a role play from our class novel, we read out newspaper reports that we wrote in class and talked about wearing a poppy for Remembrance Day. Here are some pictures:
Thursday 20th October
We had 3 firemen (called Darren, Matthew and Marcus) visit us this afternoon to give a fire safety talk. They told us the importance of smoke alarms and making an escape plan. They talked about hoax callers and how dangerous they are and that they cost lives. The fire brigade also go to car crash scenes too and they told us how important it is to wear our seatbelts every time we are in a vehicle.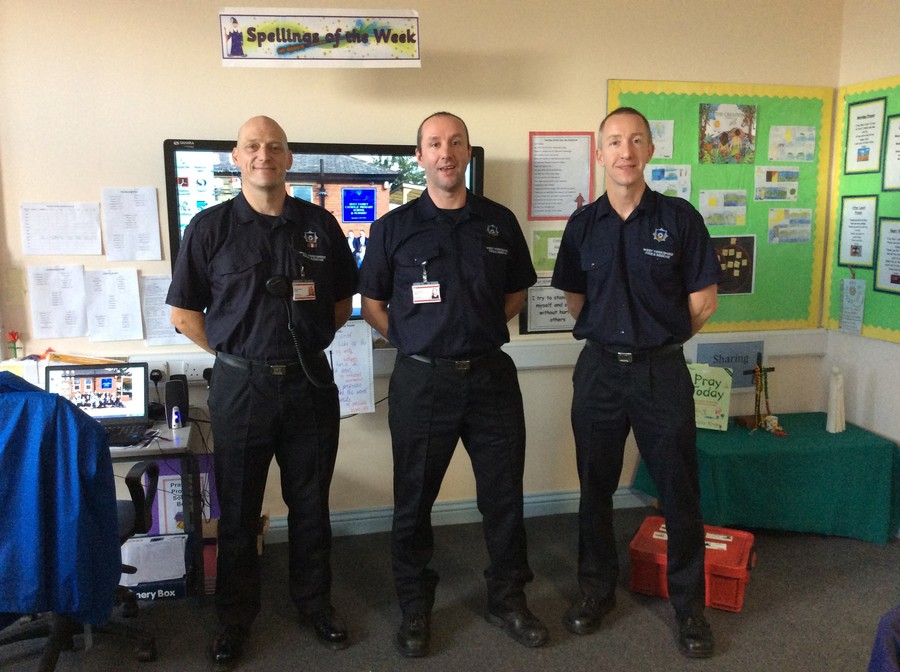 Wednesday 19th October
We learnt a Halloween song with our amazing Music teacher Miss Lee. We hope you enjoy it!
Friday 14th October
Year 5 visited The Alhambra theatre to see the first of our ballets. The theatre was very grand with golden stairs and a beautiful painted ceiling. We saw the Tortoise and the Hare ballet and we all loved it! We can't wait to see Beauty and the Beast in December...
Friday 7th October
We went to Lotherton Hall for a World War 1 themed day. The stately home was used as a hospital in the war and held over 650 soldiers during the four years. We planned where the beds would have been in the wards, played in role as doctors and nurses and sent messages in Morse code. We also had a look at lots of fascinating artefacts that would have been used in a hospital during the war. In the afternoon, we looked around the bird garden and had a quick play in the adventure playground. We had so much fun!!
Wednesday 5th October
This afternoon we took part in our first ballet workshop. Keisha and Ebony were the dancers from Northern Ballet who taught us and talked us through the Tortoise and the Hare ballet we are going to see next week. We also had Elena who played the piano for us so we even had live music from the Tortoise and the Hare show. We all had a fantastic afternoon. Look at all of the smiles on our faces!
Friday 30th September
Today the whole school went on a pilgrimage to Bolton Abbey. We walked around the grounds and saw beautiful landscapes, had a time of prayer and reflection in the Abbey and had an adventure through the forest with really cool obstacles. We had such a fabulous day. Here are some of our favourite pictures from the best house team St Nicholas!!!
Thursday 8th September
Our class enjoyed a Tae Kwando session. Here are some pictures to show you how good we were!