A huge hello and welcome to Year 5's page!
Teacher: Mrs Flanagan
Support Staff: Mrs Merdani Miss Clayton Mrs Higgins
Here we will share pictures and information about some of the interesting things we have been doing in class.
We hope you enjoy it!
Thursday 7th December
We had our class trip to Leeds Grand Theatre to see The Little Mermaid. This follows our ballet workshop with dancers from Northern Ballet. The show was amazing and Jakub even said, "This is awesome!" We all really enjoyed the show and we cannot wait to do our next ballet workshop in March. Here we are at the theatre:
Monday 4th December
Today was Christmas decorations and festive jumper day!!
Now we have entered the very special time of Advent where we prepare for Jesus' coming. We celebrated by writing Advent promises, colouring Advent wreaths, creating paper chains, making Christmas cards and creating a bauble each for the school tree in the hall.
Here is a picture of our prayer table with our Advent promises and a class picture of us in our festive jumpers.
Wednesday 22nd November
In our Music lesson today, we created a short performance based on the characters from Harry Potter. We were fab! Here we are having lots of fun:
Wednesday 8th November
In our R.E lesson today, we took part in a carousel of four different activities. Our focus was the Ten Commandments given to Moses by God on Mount Sinai. The four activities we did were:
Writing a prayer to thank God for giving us the guidance in the commandments to make sure that we live a happy life, showing God love and that we are good people who make a positive contribution to our world.

Turning each commandment into a logo/picture.

Thinking about and then explaining how each commandment impacts upon our life.

Acting out each commandment and then photographing a freeze frame of ourselves.

Here are some pictures of us:
Monday 6th November
November is the month of remembrance so we have been thinking about those who we have lost in our families and we have written prayers which will go into our whole school Remembrance Book. These prayers will then be read out during Key Stage and Whole School worships.
Antonia brought in a beautiful poppy that she had made at home using pipe cleaners. A week ago she also brought in a cross with a poppy on to remember all those who have died in the wars. Thank you Antonia!Here she is proudly showing off her poppy: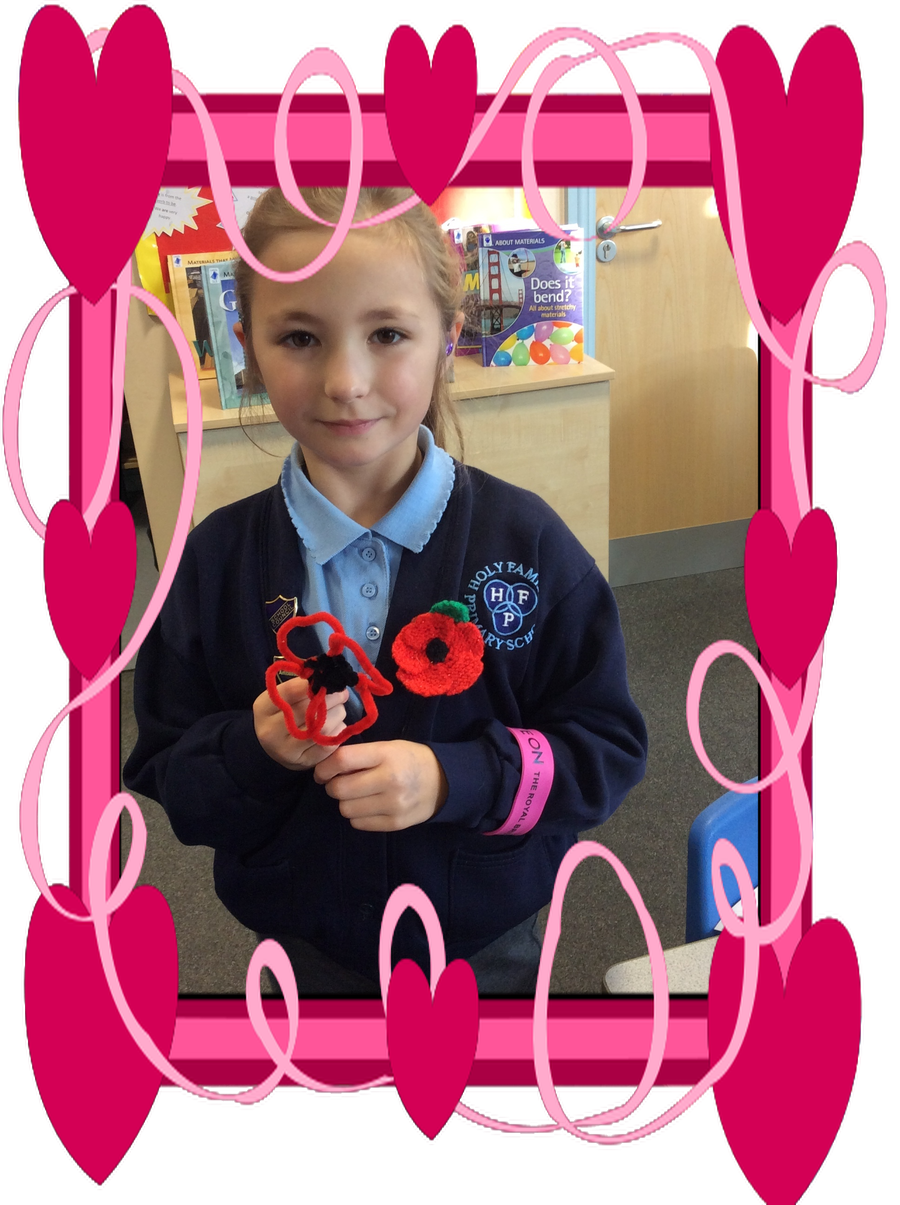 Friday 3rd November
This afternoon in our R.E lesson, we were studying the Bible story of Noah and the Ark in Genesis. We looked at two Bible readings and then split into two groups. We then created five questions we would like to ask God and five questions we would like to ask Noah. We switched our questions between the groups and answered them. We then created short role plays in smaller groups. Some of us were the interviewers and one child acted in the role of God and one as Noah. We really enjoyed this lesson. Here are some pictures of our role plays:
Wednesday 1st November
This afternoon we took part in our first ballet workshop. Philippa and Ebony were the dancers from Northern Ballet who taught us some of the moves from The Little Mermaid ballet and talked us through the story we are going to see in December. We also had David who played the piano for us so we even had live music from The Little Mermaid too. Some of us were even talent spotted and have been invited to some training sessions at Northern Ballet! Well done guys! We all had a fantastic afternoon. Look at all of the smiles on our faces!
Wednesday 11th October
We visited Lotherton Hall today which was used as a military hospital in World War 1. When we got there, we met Emily who ran the workshops. We learnt that there were 50,000 injured and wounded soldiers on the first day of the war but only 2000 hospital beds which was why the Gascoigne family turned their house into a hospital. First, we looked at some artefacts that were used in the hospital such as a bandage roller, an inhaler and a pill maker. We also saw images of the injured soldiers being looked after by the nurses. We then took part in training as a VAD (Volunteer Aid Detachment) nurse. We learnt that there were lots of rules that the nurses had to follow. We planned the house as a hospital and then we were in role as nurses and treated injured soldiers. We visited the chapel and sang songs from the war. We had lots of fun this morning! After lunch, we completed the house trail and then walked around the bird garden and played in the adventure playground. What a super trip!! Here are some pictures:
Thursday 28th September
We took part in a Tae Kwando session this morning with the instructors from Premier Martial Arts. We had lots of fun learning some martial arts moves and how important discipline and respect are too. Layton, Daisy and Dylan attend the classes and also passed their grading for their new belts this week!! Here are some pictures from our session: