A huge hello and welcome to Year 5's page!
Teacher: Mrs Flanagan
Support Staff: Mrs Merdani Miss Clayton Mrs Higgins
Here we will share pictures and information about some of the interesting things we have been doing in class.
We hope you enjoy it!
Tuesday 17th and Wednesday 18th July
On Tuesday afternoon, we visited our little Nursery buddies to watch their assembly and to see all of their achievements this year. We presented them with their certificates and a book each from Mrs Duffy.
On Wednesday afternoon, we visited Nursery again to spend time playing and developing our friendships for when we are their buddies next year in Year 6.
Friday 13th July
What a fab Mexican day!! We had lots of fun. We made some amazing pinatas and day of the dead masks. We had an impromptu dance session, played pin the tail on the burro (donkey) and ate our Mexican food. Here are some photographs of us:
Wednesday 27th June
This evening, some children from our class went to Mount St Mary's High School for the annual Golden Bunsen competition and.....WE WON IT! We won a huge cake and some Science prizes for our school. Mr Cooper, the head teacher, presented us each with a certificate. Thank you for giving up all those break and lunch times to rehearse. You were all amazing and truly deserved to win! A huge high five to you all! Here we are celebrating our win:
Wednesday 27th June
Today was a very busy one! We were visited by the Go Run For Fun team this afternoon to celebrate the 250,000th runner in tomorrow's fun run. We learnt games and activities to teach our friends at break and lunch times to encourage them to 'move more and sit less'. We all received a fabulous bag filled with lots of goodies which we will wear tomorrow. Here we are:
Tuesday 26th June
Today, we visited Mount St Mary's High School for a taster day. We loved it!! This morning we had a tour around the school which is huge! We felt like we could easily get lost there. We had break with drinks and toast and then we had Science with Mr Adams. We all got our Bunsen Burner license and then tested some different metals to see what colour the flame on the Bunsen burner turned. Then we had prayers in the chapel with Mr Stuart-Collins and took part in a guided meditation in which one of us fell asleep! After some yummy lunch, we had Geography with Mr Wood and finally we made some funky shelf buddies with Mrs Wilson. Here are some photos of us:
Friday 22nd June
This afternoon, we headed back to the Brownlee Centre for our second session of 'duathlon' training. We ran and cycled and had competitions. We put 100% effort in and the trainers thought we were superstars! Here we are:
Thursday 21st June
We took part in a tennis session this morning. We learnt some skills and practised them with partners. We had lots of fun. This afternoon, we took part in a skipping session. We did run, jump out, tristar skipping and then a free skip to music. What fun!
Wednesday 20th June
What a fab afternoon we had at the Brownlee Centre. We had lots of fun learning cycling skills used in triathlons including the transitions onto and off of the bikes. We were also put through our paces learning running skills and how to train and improve our core strength. We look forward to our second session on Friday afternoon. Here are some pictures of us:
Monday 18th June
Today was the first day of our Healthy Week! The whole of year 5 took part in bubble football and pool football. We had lots of fun crashing into each other and knocking each other over! Here we are:
Monday 11th June
What a fab first day back after the holidays. It was great hearing about what everyone had been up to over the last two weeks. We took part in another session of Bikeability this morning. We were trained on how to navigate around an obstacle course which included a seesaw! We had lots of fun and really enjoyed learning how to control our bikes to help complete the course. Here we are:
Tuesday 22nd May
What a great afternoon! We all visited Leeds Train Station to take part in various activities for Railway Safety Week. We took part in a arts and crafts competition to design a train with the safety messages on that we had learnt. Well done Antonia and Mary Kate for winning a set of three Leeds United members badges and a goodie bag! We then took turns to drive a train in a simulator and to stop it when there was an obstruction on the tracks. We had a look inside three different police vans and looked at the equipment that the British Transport Police carry. Finally, we took part in a relay race to retrieve answers to various questions that we had learnt. We had a great time and loved our goodie bags too! Here are some pictures:
Friday 18th May
What an amazing afternoon we had for the Royal Wedding celebration. Our playground was decorated with bunting, flags, blue and red and white tables and Year 1 even made some cardboard wedding cakes! There was music and entertainment in our talent show which Dannan won with her beautiful singing and then we had jelly and ice cream to eat! We loved it! Here are some pictures of us:
Friday 11th May
We were lucky enough to have a second session with the Scooter safety team this morning. We practised stopping safely, checking driveways and weaving. We then played some games like follow the leader and had a competition to see who could scoot the furthest in only one push. Here we are enjoying ourselves:
Wednesday 2nd May
We had 2 firemen (called Dean and Dan) visit us this afternoon to give a fire safety talk. They told us the importance of smoke alarms and making an escape plan. They talked about hoax callers and how dangerous they are and that they cost lives. The fire brigade also go to car crash scenes too and they told us how important it is to wear our seatbelts every time we are in a vehicle. Some of us even got to dress up in their uniform. It was very hot inside it! Here are some photos from our afternoon:
Thursday 26th April
We had our third and final session of Bikeability this morning. We were challenged to do a figure of eight where we had to weave in and out of each other. We practised the skills of braking, giving way and had to ensure we were being spatially aware. Chris and Graham said we were the best group they have had at doing this for ages! We also had relay races where we had to practise more skills such as indicating left and right, weaving and checking over our shoulder all whilst riding! A special mention to Shine, Ophelia and Riya who can now confidently ride a bike!! :)
The trainers were so impressed by your behaviour. Well done year 5!
Wednesday 25th April
We had our second session of Bikeability this morning. We had lots of fun learning how to ride around roundabouts, steer between cones in the 'Valley of Death' and played an island game where we had to ride inside cones which were gradually moving towards the middle. When the circle got smaller, it made it more difficult to ride. The winner was the person who was the last one inside the circle without putting down their feet. Well done Kacper R, Lilly, Lille and Evan!
Tuesday 24th April
We had our first morning of Bikeability with trainers Chris and Graham.
First, we made sure we were correctly clothed and had a helmet on for safety. We checked over our bikes to ensure that the brakes were working, our seats were the correct height and that they were safe for us to ride on. Then we began to learn various bike riding skills. Some of us even learnt to ride a bike properly and independently for the first time! We have grown much more confident at bike riding and enjoyed our morning. We look forward to tomorrow and Thursday's sessions too.
Here are some photographs of us in action:
Wednesday 21st March
This afternoon, we were visited by Dr Prisutova, Mrs Lindley and seven Year 8 pupils from Mount Saint Mary's High School for our Science afternoon. It was all about batteries! We learnt about conductors and insulators and how to create an electric circuit. We learnt that the world's largest battery is in Australia and is bigger than a football pitch!! We learnt how to make a bulb light and a buzzer buzz using fruit as a battery! This is because the acid in the fruit creates a voltage/electricity. We found out that the more acidic fruits create more electricity. Here are some photos:
Wednesday 14th March
This afternoon, we visited Leeds Grand Theatre as part of our project working with Northern Ballet. We were very lucky as we got to sit on the very front row so we were close to all the action and the orchestra pit. Before the show started, some of the musicians played a warm up piece just for us and talked to us about their instruments. We saw Jane Eyre which is a love story and we really love it!
Tuesday 6th March
Today was our World Book Day!! We all looked amazing in our costumes. We would like to say a massive thank you to our parents and other people who helped us look fantastic today. We each chose a book from the library and then joined up with our buddies in Nursery to read to them. What a great day! Here are some pictures of us in our costumes and with our Nursery buddies:
Wednesday 28th February
It snowed!!! We only had three children absent today so a huge well done everyone! Here are some pictures of us having lots of fun in the snow this afternoon:
Wednesday 7th February
This afternoon, we took part in our second ballet workshop which was based on Jane Eyre. We had lots of fun being taught moves from the ballet by Keisha and we danced along to live music on the piano played by Elena. Here are some pictures of us:
Wednesday 7th February
This morning, we had a fantastic Music lesson with Miss Lee where we used all sorts of instruments to create a composition that represented a storm. We had to think about the tempo, the dynamics, texture and adding body/voice percussion. We rehearsed in our groups and then performed for the class while Miss Lee recorded us. Here we are:
Tuesday 6th February
This morning, we met Jason, Wendy and Amber from the Stay Safe team. They taught us how to ride our scooters safely. We went on the streets around our school and we learnt how to cross the roads with our scooters safely. We had lots of fun!! Check us out in these pictures:
Wednesday 30th January
This morning, we had our class assembly all about our residential to Castlerigg Manor. We told everyone about all of the amazing things we did when we there and we shared lots of photographs which showed all of the fun we had. Thank you to all the parents and other family members that came to watch us.
We really miss being at Castlerigg.
Thursday 7th December
We had our class trip to Leeds Grand Theatre to see The Little Mermaid. This follows our ballet workshop with dancers from Northern Ballet. The show was amazing and Jakub even said, "This is awesome!" We all really enjoyed the show and we cannot wait to do our next ballet workshop in March. Here we are at the theatre:
Monday 4th December
Today was Christmas decorations and festive jumper day!!
Now we have entered the very special time of Advent where we prepare for Jesus' coming. We celebrated by writing Advent promises, colouring Advent wreaths, creating paper chains, making Christmas cards and creating a bauble each for the school tree in the hall.
Here is a picture of our prayer table with our Advent promises and a class picture of us in our festive jumpers.
Wednesday 22nd November
In our Music lesson today, we created a short performance based on the characters from Harry Potter. We were fab! Here we are having lots of fun:
Wednesday 8th November
In our R.E lesson today, we took part in a carousel of four different activities. Our focus was the Ten Commandments given to Moses by God on Mount Sinai. The four activities we did were:
Writing a prayer to thank God for giving us the guidance in the commandments to make sure that we live a happy life, showing God love and that we are good people who make a positive contribution to our world.

Turning each commandment into a logo/picture.

Thinking about and then explaining how each commandment impacts upon our life.

Acting out each commandment and then photographing a freeze frame of ourselves.

Here are some pictures of us:
Monday 6th November
November is the month of remembrance so we have been thinking about those who we have lost in our families and we have written prayers which will go into our whole school Remembrance Book. These prayers will then be read out during Key Stage and Whole School worships.
Antonia brought in a beautiful poppy that she had made at home using pipe cleaners. A week ago she also brought in a cross with a poppy on to remember all those who have died in the wars. Thank you Antonia!Here she is proudly showing off her poppy: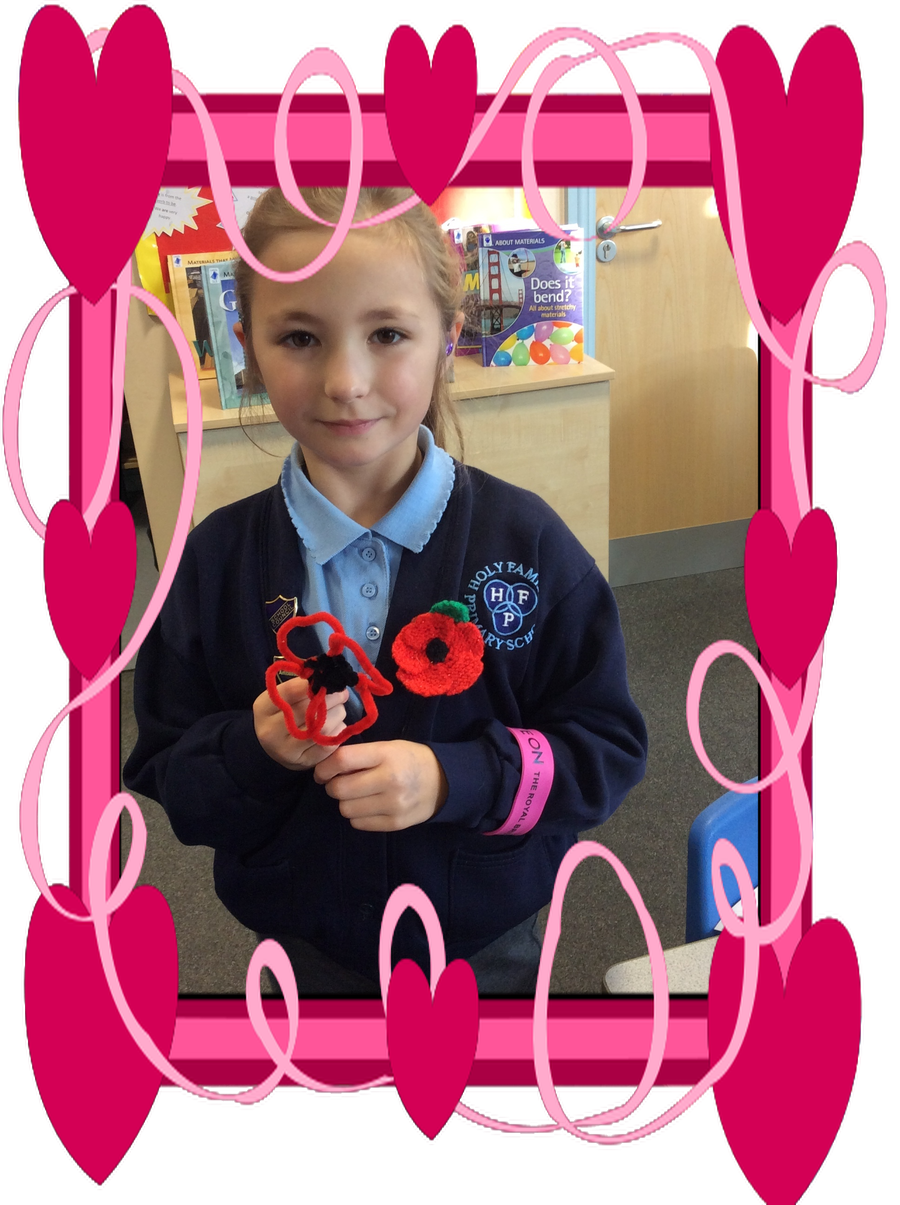 Friday 3rd November
This afternoon in our R.E lesson, we were studying the Bible story of Noah and the Ark in Genesis. We looked at two Bible readings and then split into two groups. We then created five questions we would like to ask God and five questions we would like to ask Noah. We switched our questions between the groups and answered them. We then created short role plays in smaller groups. Some of us were the interviewers and one child acted in the role of God and one as Noah. We really enjoyed this lesson. Here are some pictures of our role plays:
Wednesday 1st November
This afternoon we took part in our first ballet workshop. Philippa and Ebony were the dancers from Northern Ballet who taught us some of the moves from The Little Mermaid ballet and talked us through the story we are going to see in December. We also had David who played the piano for us so we even had live music from The Little Mermaid too. Some of us were even talent spotted and have been invited to some training sessions at Northern Ballet! Well done guys! We all had a fantastic afternoon. Look at all of the smiles on our faces!
Wednesday 11th October
We visited Lotherton Hall today which was used as a military hospital in World War 1. When we got there, we met Emily who ran the workshops. We learnt that there were 50,000 injured and wounded soldiers on the first day of the war but only 2000 hospital beds which was why the Gascoigne family turned their house into a hospital. First, we looked at some artefacts that were used in the hospital such as a bandage roller, an inhaler and a pill maker. We also saw images of the injured soldiers being looked after by the nurses. We then took part in training as a VAD (Volunteer Aid Detachment) nurse. We learnt that there were lots of rules that the nurses had to follow. We planned the house as a hospital and then we were in role as nurses and treated injured soldiers. We visited the chapel and sang songs from the war. We had lots of fun this morning! After lunch, we completed the house trail and then walked around the bird garden and played in the adventure playground. What a super trip!! Here are some pictures:
Thursday 28th September
We took part in a Tae Kwando session this morning with the instructors from Premier Martial Arts. We had lots of fun learning some martial arts moves and how important discipline and respect are too. Layton, Daisy and Dylan attend the classes and also passed their grading for their new belts this week!! Here are some pictures from our session: