Welcome to Year 6 2018-2019
In Year 6 we have, Miss Wharton, Mrs Archdale, Miss Senior and Miss Clayton. We will be working incredibly hard this year but we'll still have lots of fun!
12th February - Road Safety
Today we had scooter training with the Road Safety Team. We started our lesson in the playground, talking about how we can stay safe when we are out and about on our own scooters. Then, we used our local roads to show off the skills we had learnt!
5th February - Class Collective Worship
As we are in the month of February, our class worship was themed around love. We began by reading John 13:34-35,
"A new command I give you: Love one another. As I have loved you, so you must love one another. By this everyone will know that you are my disciples, if you love one another."
We thought about how sometimes it can be difficult to love those around us, especially if they have been hurtful or not very kind. We asked God to give us the strength to follow the New Commandment and to help us to be His disciples, by always loving one another.
1st February - Egyptian Maths Problem
This afternoon, year 6 were applying their knowledge of algebra to logical thinking problems. Howard Carter (a British Archaeologist) needed their help to enter the famous Tutankhamun's tomb. They had to think very carefully about how they would solve the problem for the doors to open. Miss Wharton was very impressed with how resilient each pair was when faced with the tough challenge!
25th January - Tutankhamun
We have been learning all about Tutankhamun! Today we used different sources to build up a picture of the events of his life. Each group had a 'mystery source' and worked together to find out as much information about the 'Boy King' that they could find.
24th January - How does Jesus nourish our soul?
Today we have been learning about how Jesus is the bread of Life. We began by discussing how he can help us when we are spiritually hungry and when we are facing difficult times in our lives. We then linked our learning to art work by Elizabeth Wang.
18th January - Mummification (Ancient Egypt)
We couldn't learn about Ancient Egypt without mentioning mummies. After learning all about the process of mummification and the reasons behind it, we prepared to have a go for ourselves. As mummifying class members might have been frowned upon, we decided to roll up our sleeves and mummify Mr B!
7th-9th January - Herd Farm Residential
Year 6 have had a fantastic time on their residential to Herd Farm where they have learnt a lot about each other and themselves. All of the teachers have been extremely proud of how they have supported and encouraged their classmates to conquer their fears. I am sure that they have made so many memories that will stay with them forever!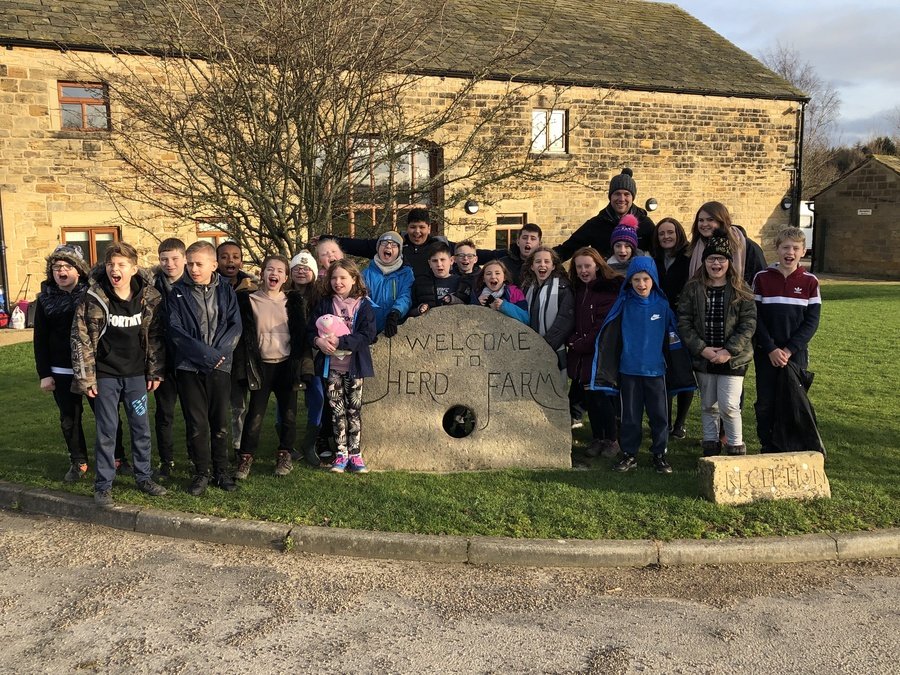 6th December - Religious Education
Today we started our new RE topic of Justice. In groups, we discussed our ideas of justice and injustice whilst using stories we have heard in the media to support our opinions. We then created acrostic poems to explain the meaning of justice.
28th November - PE with Gavin
We were very lucky today as we had our PE lesson with Gavin from the Leeds Rhinos Foundation. We were playing games to develop our team work and communication skills. We had lots of fun!
26th November - Faith through Art Week (Visit to the Gurdwara)
During Faith through Art Week, Year 6 are going to be learning all about Sikhism and today we were lucky enough to visit the Sikh Gurdwara in Beeston. When we arrived, we were met by Mr Singh, who taught us all about Guru Nanak and the Sikh faith. During the visit we were able to go into the prayer hall, where everyone was asked to remove their shoes and cover their heads. Mr Singh told us about the Sikh scripture, which is called the ' Guru Granth Sahib'. The traditional Sikh belief is that the scriptures contain the actual words and verses spoken by their Gurus. At the end of our visit we were able to try some delicious Sikh food. We had a fantastic morning learning about the Sikh faith!
26th October - Forest School Week
This week has been forest week in school.Year 6 have been extremely lucky to have visited both Swillington Organic Farm and Fanwood Scout Camp. During our visits we have developed: our ability of working as a team, our confidence and our self-esteem. We have had an amazing, week filled with lots of fun! Thank you Mrs Duffy for organising our fantastic week.
10th October - Music with Miss Lee
4th October - Thwaite Mills WW2 trip
Year 6 enjoyed a fantastic school trip to learn more about World War Two! They began the day by learning about: food and materials shortages during the Second World War, and the emotions connected to these shortages; bombing raids, and the precautions taken during a raid and how putty was used during World War Two to repair 'bomb' damaged houses. In the afternoon they then made their very own gas masks.
24th September - Nell Bank Team Day
The whole school enjoyed a fabulous day out at Nell Bank. We worked on our communication skills and learnt how to work well together as a team!