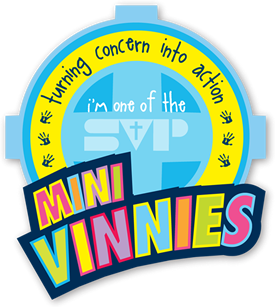 If you want to find out more about Mini Vinnies then follow the link below...
http://www.minivinnies.org.uk/
Here at Holy Family we are really enjoying the benefits of having Mini Vinnies in school. Our Mini Vinnies have already organised and taken part in lots of exciting events.
Enrolment:
Before the Mini Vinnies become Mini Vinnies they have to go through the enrolment Assembly. The soon to be Mini Vinnies then make a pledge of all the things they will do to help raise money for charities once they become a Mini Vinnie.
Macmillan Coffee Morning:
One of the many charities Mini Vinnies support is Macmillan. Every year they host a coffee morning in the hall before school. They have games, treats and of course plenty of cake!
Like last year, we incorporated our annual 'Bake Off' to coincide with the event to make sure there were plenty of buns and cakes to sell on the morning.

All together we raised a fantastic £245.70p for Macmillan Cancer Support.
Poppy Appeal
Every year around October, the Minnie Vinnies start to sell poppies to help raise money for the soldiers and their families. Mini Vinnies support this charity because many soldiers past and present gave their lives for our country and by helping raise money and wearing poppies we are respecting those who have given their today for our tomorrow.

Good Shepherd Celebration
The Bishop's annual Good Shepherd Service at St. Anne's Cathedral on Friday 19th May 2017 was lead by Holy Family Catholic Primary School and supported by St Paul's. Bishop Marcus and Holy Family led the procession of schools from across West Yorkshire with their banners around the Cathedral on to the altar. During the presentation of cheques some children stood up and reflected on the work Catholic Care does, some of our children even shared their personal stories of how Catholic Care has helped them. They also read poems, prayers and sung a variety of different songs. We had some fantastic comments from the Catholic Care organisation as well as other schools. Thank you to all the children for making us feel so proud. Well done! Also a final Thank you to Mrs Rees, Mrs Crosthwaite and Miss Wharton for helping to arrange and organise it!
read more about the Good Shepherd Mass by visiting the link below.
http://www.catholic-care.org.uk/good-shepherd-celebration-2017/
Minnie Vinnies Pilgrimage
The Minie Vinnies took part in the Pilgrimage at Ripon Cathedral on 18th October. The children processed around the Cathedral with the Holy Family Banner before Mass began. After Mass the children carried on their journey to Fountains Abbey before heading back to school.