Teacher: Miss James
Support Staff:
Mrs Gibbons and Miss Fryer
We learn lots of new things at school and have lots of fun learning through play inside and outside of our classroom.
In Reception we come to school each day to work, to pray and to play in the light of the Lord.
Learning at Home Week 2
WC Monday 30th March 2020
Happy Monday all! I hope you enjoyed last week learning from home. I have received lots of fantastic updates on Tapestry and it has been a real pleasure to see what you have been getting up to with your families. Please continue to upload onto Tapestry. I am checking this daily and will reply in due course.
If you haven't already, I highly recommend creating a Twinkl account whilst it is free. Use the following code for free access to hundreds of learning resources:
PARENTSTWINKLHELPS
So, this week....
Please see the documents below. I have attached 2 home learning packs from TTS - the EYFS one and the KS1 booklet. Have a look through them both and, if you are able to do so, print the one that you feel you would like to complete. The KS1 booklet has lots of tricky things inside however, some activities would be great for a challenge.
I have also added other documents below that you might like to have a look at. Most of all, stay safe and continue to have fun! I think all of these resources will keep you very busy.
Keep in touch please.
God Bless you all.
Miss James.
Maths Games
Please continue to use your TenTown number cards from Parent's evening. Use these to make sure that you can recognise all the numbers, order them correctly and represent them in many ways.
Use the TTS books (above), there are lots of great activities in there to try.
Also, Numberblocks on CBeebies is a really good resource to help with number recognition. We use the songs in class to help us with our Maths Mastery and we are familiar with them. We really love singing along to them. Give this a go at home.
I wonder if we could create a set of Numberblocks characters that we could use when we are back in school? That would be great! If you would like to have a go at making a number using boxes/blocks/paper etc then feel free and upload it to Tapestry for me to see please. I would really love that! This is how they look...
I Spy...
This is a lovely Spring themed activity to help with your counting. You will need to use both documents together. One has the items for you to count and the other has somewhere to record your counting.
Measuring in Spoonfuls (non standard measures)
Just for fun! If you have the ingredients, you may want to follow the recipe. Count the number of spoonfuls of each ingredient you need, follow the recipe and enjoy your biscuits. An adult MUST help you with this.
Phonics games
Please continue to use your phonics sound mats to recap old sounds and learn new ones. You can also use Geraldine the giraffe on YouTube to help with this if you wish. She is extremely funny and cheeky.
Phonics play still have fantastic resources available including games that you may wish to play.
Alphablocks on CBeebies also helps with sounds and phonological awareness. I have given you a couple of games below that you may want to play together.
Underneath the games, there is a CVC word booklet that I have added which will keep you busy for quite a while. It will help with recognising sounds, blending and segmenting.
PLEASE CONTINUE TO READ AS OFTEN AS YOU CAN!
Challenges
These challenges cover lots of areas of learning and they are fun! Have a look and complete as many as you can.
Staying at Home
WC Monday 23rd March 2020
I would like to begin by checking in on all of our wonderful families within our class. Many thanks to each and every one of you for keeping your children at home wherever possible.
As you are aware, if your child was in school on Friday, they will have received a pack of suggested activities that you can complete together at home. In addition to the pack, will be putting ideas of activities for you to complete on this school website page.
Joe Wicks is live streaming PE lessons each morning at 9am which is a great way to
keep active.
Shonette is live streaming dough disco on YouTube each day which will help to develop
fine motor skills.
My email address was given to you all and therefore, you can use this to contact me
should you feel it necessary.
Today (Monday 23rd March 2020)
Can you look outside of your window? What can you see? Draw a picture and label it or write a sentence to tell me all about what you can see.
Tuesday (24th March 2020)
Who is in your family? Can you have a think about drawing a picture. Draw your family members in order from the youngest to the oldest. If you can, tell me how old they are. When you have drawn the picture, can you write a sentence or a few words to tell me about the people in your family.
Wednesday (25th March 2020)
Use the Ten Town number cards you received at parents evening. Put them in order
first of all from 1 - 10. Can you draw the correct number of dots/flowers/dogs/cats etc
to match each number. If you would like a challenge, can you have a go at showing me
a number of your choice. For example, if you choose number 6, you could try and show
me this using a part whole model. You may choose to write some number sentences or
you may even be able to have a go at writing the number in words. Have fun exploring
the numbers and see if you can find any objects around the house to show the number.
Thursday (26th March)
Choose your favourite reading book. This can be a school reading book or a book that
you might have at home. What is the title of the book? Tell me what you wonder about
the book. Write a sentence to tell me what you wonder. Read the book, who are the
characters in the book? Are they good or bad characters? Can you draw your own
character that you could add into the book?
Friday (27th March)

Bake/paint/create something with your family. What might this be? You may have an
empty bottle or an empty egg carton or cereal box that you could use to create a very
special model. Write all about it and give step by step instructions so that your friends
could make the same thing as you.
Please put all of your fantastic work onto Tapestry where I will be looking each day.
HAVE FUN.
STAY SAFE.
KEEP WASHING YOUR HANDS.
See you all very soon.
Miss James :)
Science Week
WC 9th March 2020
We have been celebrating national Science Week in school. We had lots of fun this morning learning all about the importance of looking after our environment. We did our bit by going outside as a class to pick up as much litter as we could - we managed to fill a bin liner!
Thanks to the fantastic Year 3 children who joined us to help us collect as much as we could, they were wonderful helpers.
We really enjoyed ourselves because we we had a chance to use the litter pickers that the big children use in the playgrounds.
This weekend, if we could all pick up one piece of litter, it would help to make the
world a better, cleaner and tidier place to live.
World Book Day
Thursday 5th March 2020
We have had the most magical day in Reception Class celebrating World Book Day. Our costumes were absolutely fantastic and we all had such a lovely time sharing stories with our friends. Miss James and Mrs Gibbons scared us all this morning in their ugly step sister costumes - what a fright! It was such a wonderful day and we really did have lots of fun together.
Thanks to all of our lovely parents and families that came to join us this morning to begin our special celebrations. We really appreciate your support.
The Deep
Friday 24th January 2020
We visited The Deep in Hull on Friday as part of our Under the Sea topic. We saw lots of different types of fish and sea creatures. We enjoyed our workshop and saw a special diver called Seb who looks after the tanks at the Deep. He feeds the fish very carefully and checks that they are happy and healthy. Lots of us fell asleep on the minibus on the way home because we were so tired from all the exploring. I hope you are all well rested after the weekend Reception Class.
Book of the Week
WC 20th January 2020
This week, we shared our story of Ten Little Pirates in the library as we do each week. We made predictions about the book using the front cover. Have a read of some of the things we said
" I wonder if they will find the friends" Annabella
"I wonder if the pirates are bad or good" Mia
" I wonder if they get lost" Penny
"I wonder if they find treasure you know like treasure all buried in the map" Bridget
"I wonder if they all have a party together" Keaton
"I wonder if there's only 10 of them" Jayden
We answered some of our I wonder questions after we had read our story and others, we are still waiting to find the answer to. We love the peaceful and calm time that we share in the library.
Jesus Loves Us
WC 13th January 2020
We are all well settled again after returning from the Christmas break. In RE this week we have been learning all about different ways in which we can show love to others. We used role play to act this out in our classroom. We shared ideas such as ...
giving hugs
making cards
smiling
sharing with our friends
Have a look at some of the photos from our role play afternoon. We enjoyed it lots and shared some lovely ideas.
Christmas Fun
December 2019
We had lots of fun throughout December at school taking part in lots of craft activities and party days. However, we mainly focused upon the real meaning of Christmas - the birth of Jesus. We spent many weeks rehearsing for our Nativity to prepare for his coming. Our performances were fantastic, so much so, that some parents/carers came back twice. We were all so brilliant and our adults were very proud of us.
World Hello Day
WC Monday 18th November
We celebrated World Hello Day from our Spread the Happiness calendar by bringing things in to reflect our cultures/customs and routines that we may join in with at home. Some of us wore special clothes from our special countries which were very beautiful. Also, others of us brought some native foods in for our friends to try - it was all so yummy! We enjoyed saying hello in other languages and we enjoyed talking about the other countries in our world.
R.E
Wednesday 13th November 2019
We acted out a story about a princess called Elizabeth who loved God very much. Every day she would fill her basket with food and go to visit the poor and the sick people. We have been thinking about how we can show our love for God by helping others.
Our Class Mass
WC Monday 11th November 2019
We visited church for our class mass with Year 6 this week. We walked very sensibly together and held our buddies hand. We listened very carefully to Fr. Neil and were very respectful. Also, Fr. Neil noticed that we were all wearing a special poppy to remember all those that have given their lives for us. We all spent some time talking to Jesus.
Bonfire Night Fire Pit Fun
WC Monday 4th November 2019
We gathered around our fire pit in our outdoor learning area to celebrate Bonfire Night together by having a small fire. We had a chat about the importance of safety and what could happen if we didn't follow the rules. We all toasted a marshmallow on our fire, had some hot chocolate and, ate a biscuit - yummy scrummy! We even made some pretend edible sparklers using breadsticks dipped in chocolate with sprinkles on top. We were all so excited.
Pumpkin Carving Competition
WC Monday 21st October 2019
Some of us chose to carve pumpkins for our whole school competition and others of us decided to bring in something spooky. We had 2 winners in our Reception Class - we were very proud of our friends and so happy for them. Well done to all that entered.
Superheroes Week
WC Monday 14th October 2019
We really enjoyed doing all things superheroes this week. Lots of our family members came to join us for Stay and Play. We enjoyed decorating biscuits, dressing up and even having a shot of a super power of our choice - how fun!
We read lots of hero themed stories but of course, Supertato was our favourite!
Forest Week
WC Monday 7th October 2019
We had such a great time at This Green Moon for our Forest Week adventures. Have a look at some of our photos.
Forest week
WC Monday 7th October 2019
We had fun visiting Armley Park.
Maths Mastery
WC Monday 30th September
We are really enjoying getting to grips with our Maths Mastery approach this year. We have learned all about the number 1 so far this half term and we have now moved on to exploring number 2. Each time we look at a number, we begin by listening to the matching Ten Town song and number blocks song.
Listen to the number 2 number blocks song here:
https://www.bbc.co.uk/cbeebies/watch/playlist-numberblocks-songs#playlist
We really enjoy adding new items to our number table each day. We search for things around the classroom and our shared area that represent the number of the week. We also use our interactive display to help us when we are forming our numbers. We also create numbers in the paint area and play dough area which are then added to the special focus table.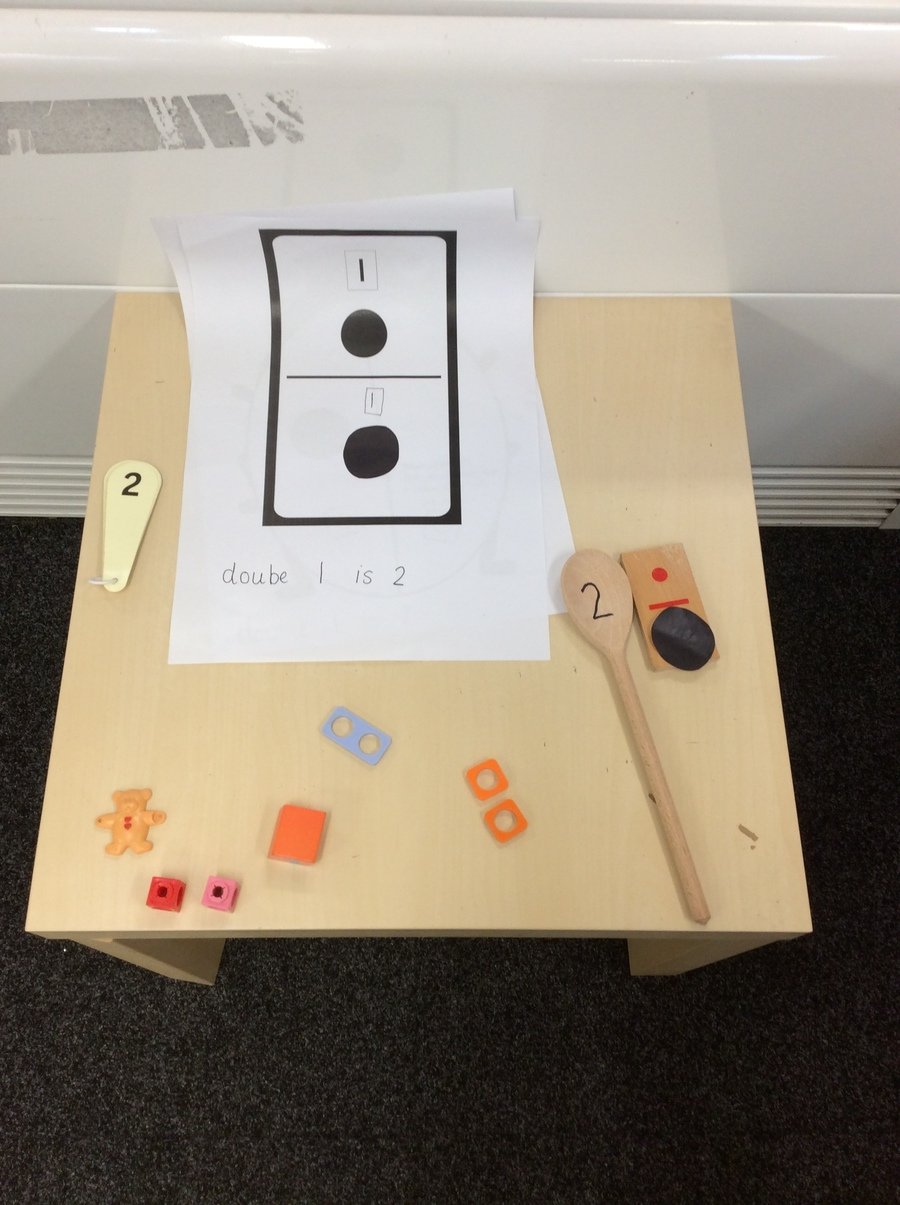 Take a look at some of our brilliant number 2 work from this week.
Bears Topic
WC Monday 30th September
We have been learning all about bears this half term. So far, we have focused on polar bears. We know where they live and what they eat. We have made split pin bears to help us develop our fine motor skills. It was tricky but we enjoyed exploring new ways of joining pieces of paper and other materials together.
Our Year Six Buddies
WC Mon 27th September
We love spending time with our Buddies from Year Six. They come to visit us in school and we love to play with them.