Miss Nicholson, Mr Biedka, Mrs Merdani, Miss Pickard, Miss Clayton and all the children of Year 6 will be working hard all year. We want you to keep visiting the page to find out about all the wonderful things we will be doing in Year 6. Click on the other pages to find out a little extra!
CLASS MASS
Fr. Neil invited both Year 6 and Reception to celebrate morning Mass down at Holy Family church today. We loved saying our readings and spending more time with our favourite priest! Thank you. 13.11.19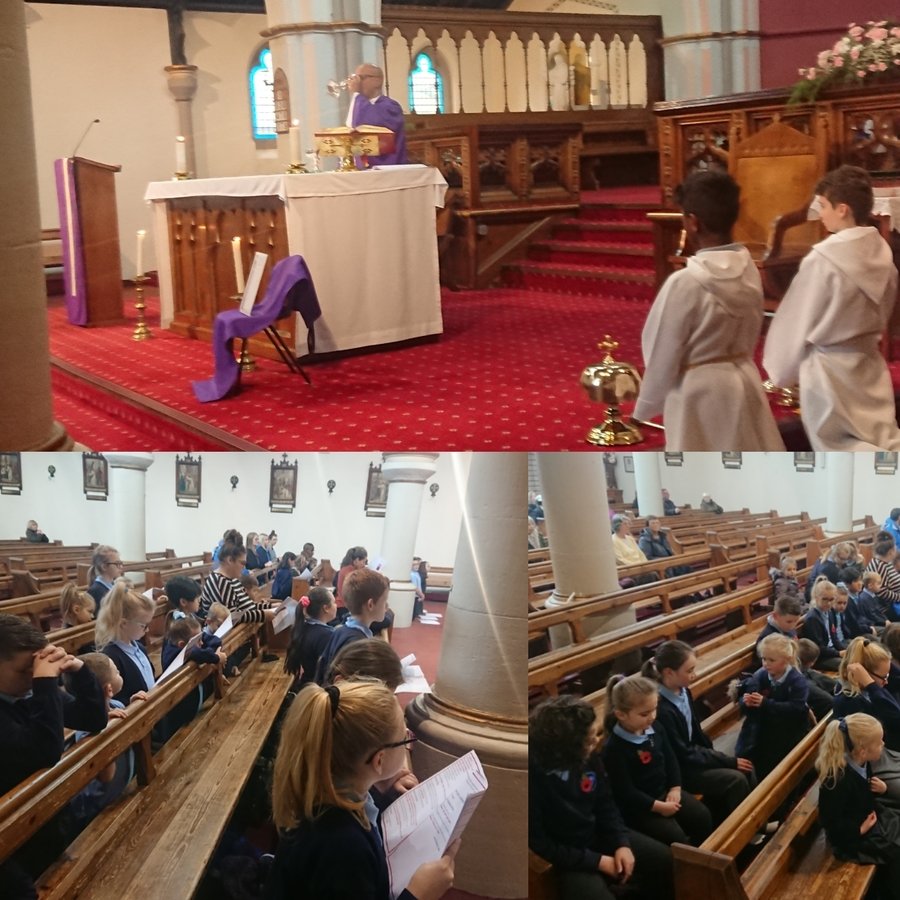 History (12/11/19)
In the times of Ancient Maya, Central America was split up into territories. Each territory was made up of city states. These city states were independent and consisted of a city and the farmland and villages around it.
Today, we took on the role of leaders of city states. We received this very important message...
Welcome my lord. The city mourns the death of your father, the king. He is ascending the branches of the world tree as we speak.
You have instructed that a grand tomb be constructed for him. I am your chief architect and I will help you build this monument to your god-father. The gods will be pleased with your efforts and the endeavor will be blessed by them.
It will be a great undertaking and require a huge amount of organisation. We will also need to greatly increase the size of our town to supply the labour force and resources that will be required.
We had great fun getting our cities up and running and then trading and raiding each other!
The Apple Store film experience.
We spent an hour and half in the Apple store creating short film clips on the latest tablets from Apple. The children loved the trip and learnt lots of new skills on the tablets and learnt how to become film makers. 11.11.19
Our liturgical dance for our All Saints Assembly
History- 5/11/19
Our first History lesson started with a message from a famous American Explorer, John Lloyd Stevens. He informed us that he built a time machine to go back to the time of the Ancient Mayans. These mysterious people lived thousands of years ago and not much is known about them. He asked if we wanted to go and explore and of course we said YES!
Before starting our journey, we had to know where we were going so we used our geography skills to locate Central America and then more closely at the countries that make it up.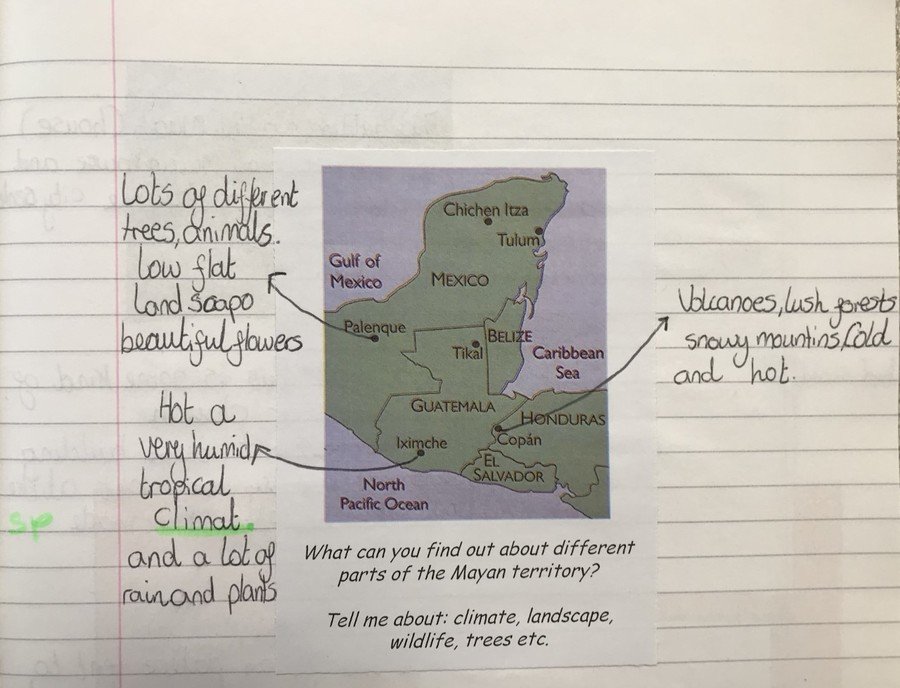 We then considered what we would want to take with us and had a good discussion about what items would be most useful. The children then decided what they would want to take and drew it in their suitcase
Science - 4/11/19
This half-term we will be learning all about how to keep our bodies healthy and how our bodies might be damaged. In today's lesson we were examining food packaging labels to identify the food groups that different types of food contain. We learned today that 'diet' means the food and drink that we consume and doesn't refer to the choices people make when trying to loose weight.
Fanwood Scout Camp
Forest Week fun continued today as Year 6 visited Fanwood Scout camp. Even though it rained all day, we had an amazing time! We especially enjoyed the completing the night-line and getting covered head to toe in mud. Today, we learned to rely on each other and how important it is to work as a team to solve problems. 11.10.19
This Green Moon
Year 6 visited This Green Moon for some Volcanic Fun!
We learnt lots and created our very own Pompeii disaster. On the way back, we were so happy that we showed Mr Biedka and Mrs Gibbons how good we were at singing. 10.10.19
Guided Reading
We have been learning about how an author uses figurative language to create: atmosphere, mood and description. 08.10.19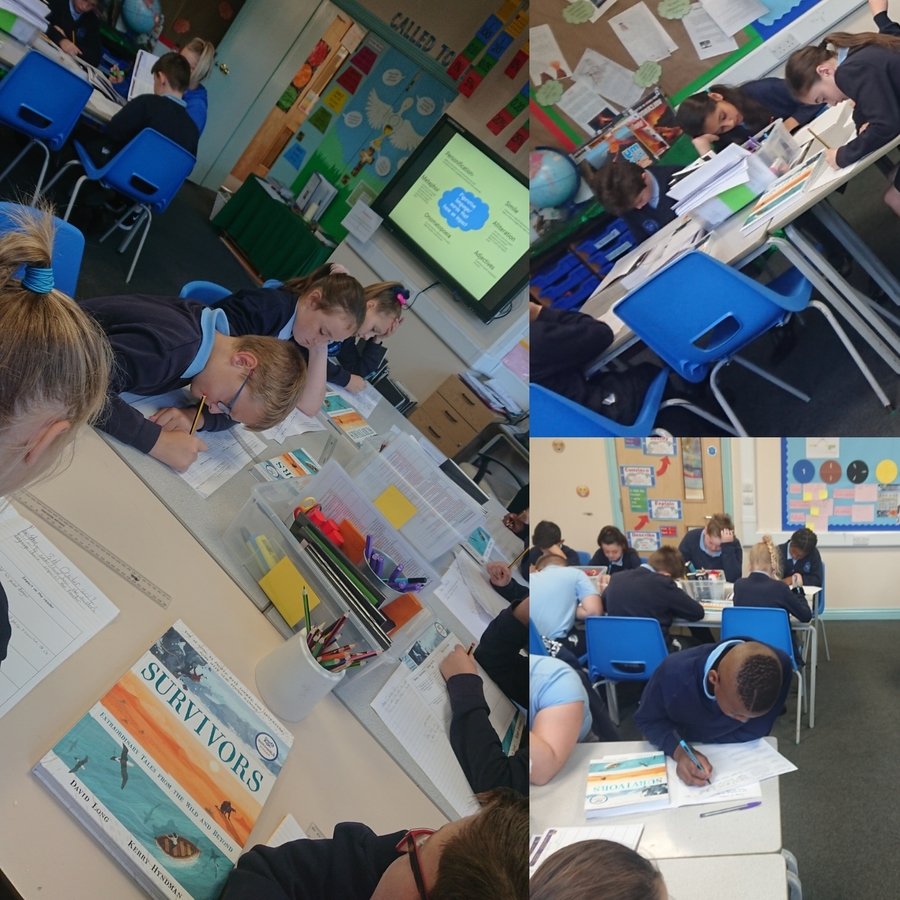 As part of our science topic on the Circulatory System, today we learnt about the contents of blood and the functions of these components. We used iPads to carry out research and then we made 'blood soup' to help us remember the things that we had learnt.
Red Blood Cells= jelly
White Blood Cells= mini marshmallows
Plasma= orange squash
Platelets= rice
We used our research to try to make sure that we used the correct ratio of each ingredient. 07.10.19
Today, we visited Mount Saint Marys Catholic High School as it was their open day. We experienced real high school life whilst we were there including: a science lesson all about chromatography; a DT lesson during which we made our own stamper; a music lesson which involved both singing and dancing and importantly(!!!) lunch. 3.10.19
Science
In science, we are learning all about the circulatory system. Today, we showed our understanding of the function of the heart by making models. 23.09.19
Today, we walked to Church with our buddies. We were very good at showing them how to walk sensibly and cross over roads safely. 17.9.19
Afterwards, we had time for a little play in the sunshine.
Having fun at break, we love school.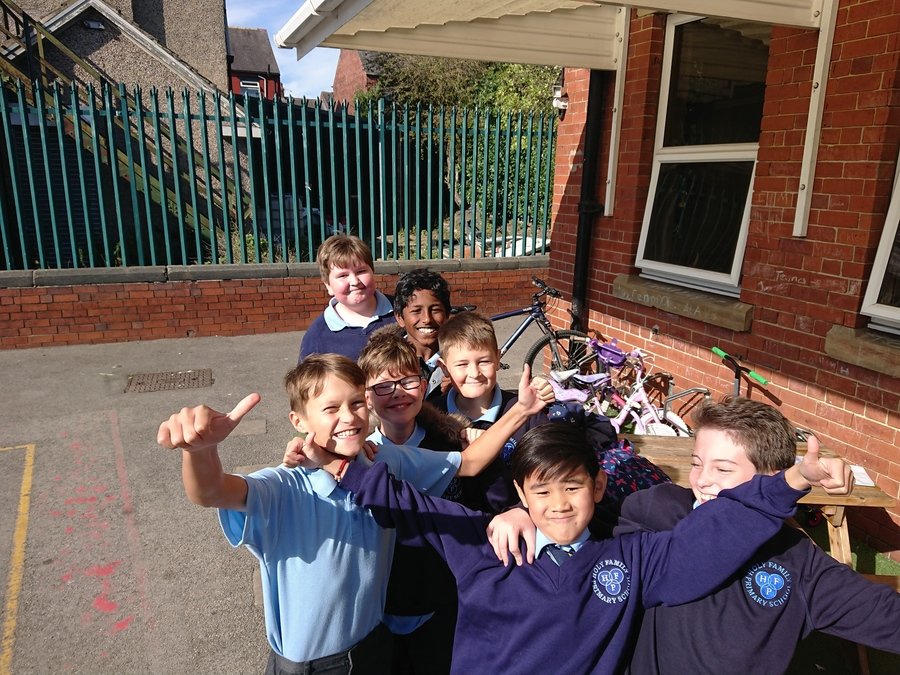 Maths
Today we were working hard on rounding. Mr Biedka said its okay to get things wrong because that's how we learn.
We are Brave Mathematicians and can't wait for the next lesson! 12.09.19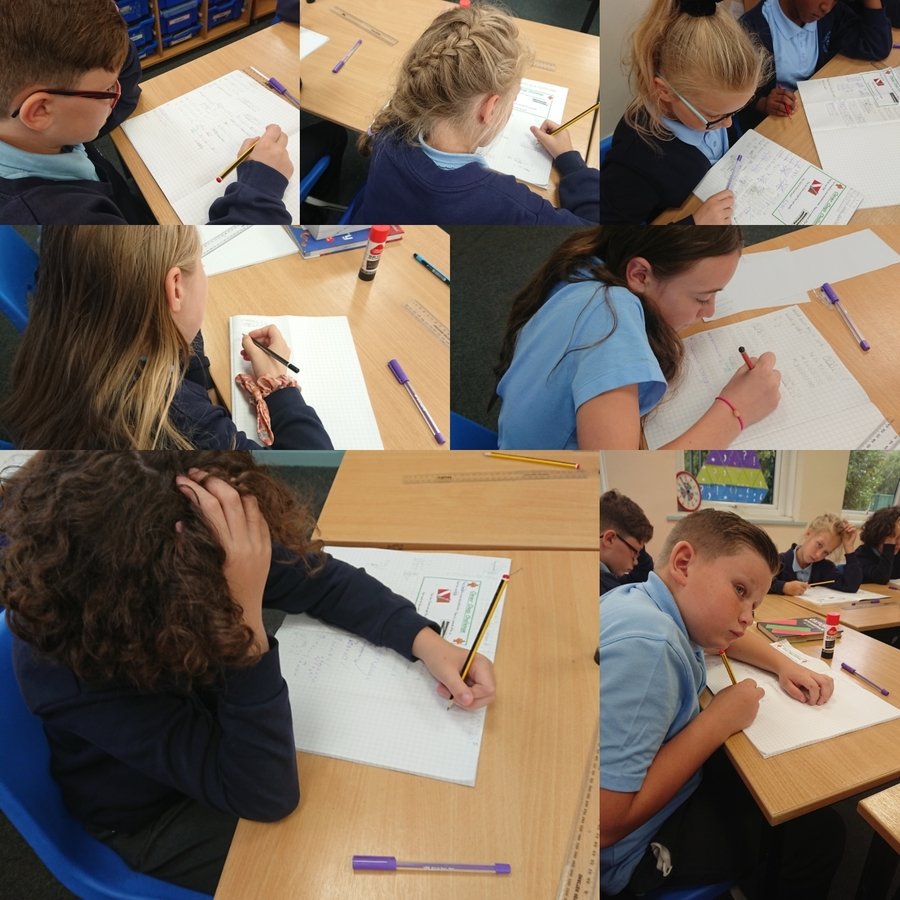 English
We have been researching about volcanoes to help us with our Non-chronological reports. The ipads were a great help and we learnt some amazing facts - There is an area in the Pacific ocean called the 'Ring of fire' where over half of the Earth's active volcanoes are located. 12.09.19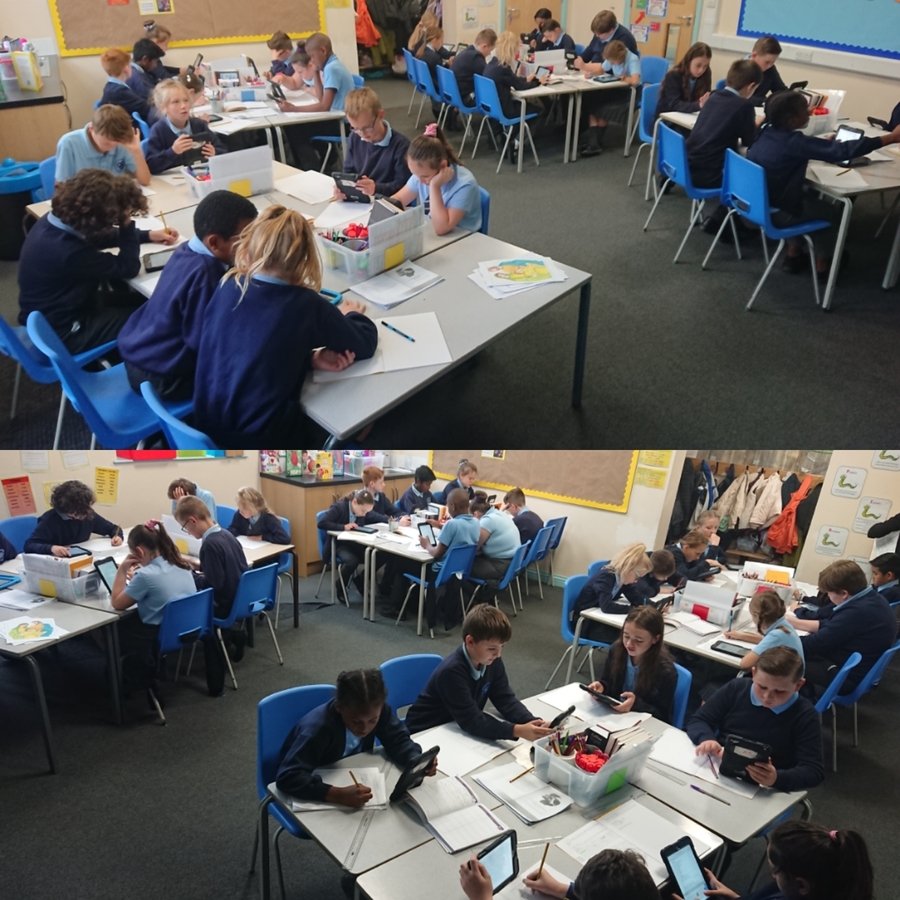 Geography
We have been learning about how volcanoes are formed. The Earth's thin crust is split into pieces (tectonic plates). These tectonic plates float on the mantle. Volcanoes are usually located on tectonic plate boundaries (where tectonic plates collide). Here we are looking in atlases to locate countries on tectonic plate boundaries 9.09.19
Today, we met our reception buddies for the first time! We can't wait to get to know them this year. 6.09.19
Miss Nicholson and Mr Biedka are finding out what we have remembered over the summer.
We are so glad to be back! 04.09.19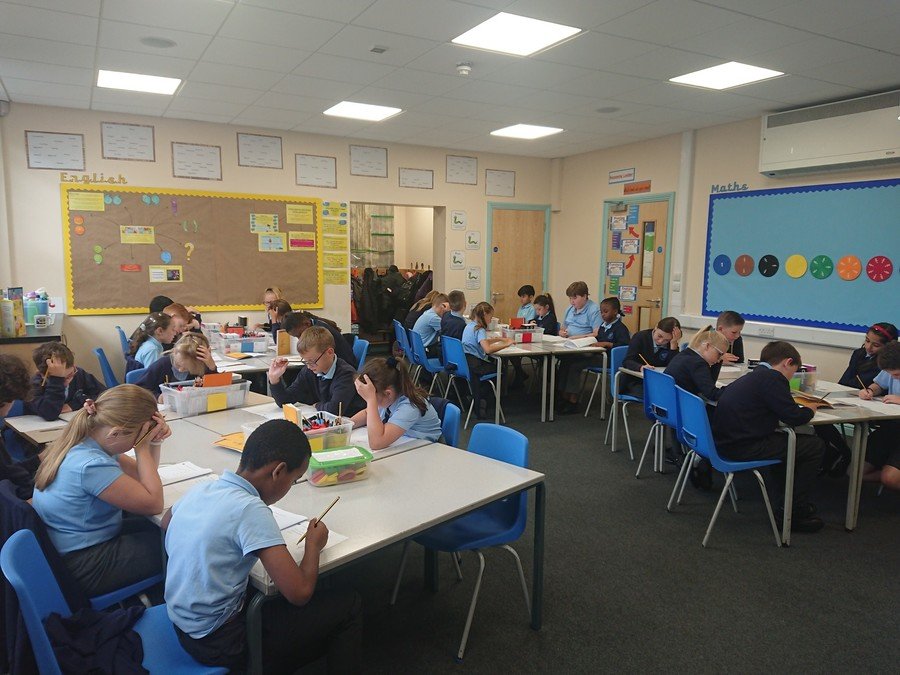 ART
We have been learning about how to create different tones and how to cross hatch. We created an abstract piece to
Tchaikowsky's Swan Lake Act II No.10. 04.09.19