Welcome to Year 3
Mrs Simpson, Mrs Angstmann, Mrs Mchale and the whole of year 3 would like to welcome you all to our class webpage!
It has a been a super first few weeks back in school and the children have all settled back into the school routine amazingly.
We can't wait to share with you all the fantastic things we get up to in year 3!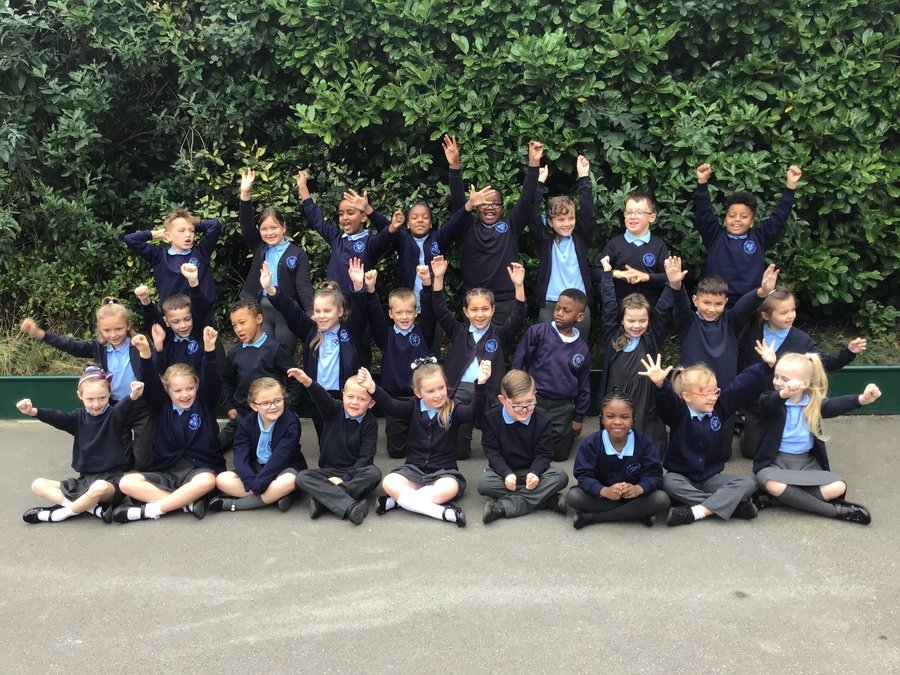 Geography
In geography we have been learning about what the 8 points of a compass are and how to use a compass to follow and give directions.
Week 3 - As part of our topic we were super lucky to be able to enjoy a visit to Sewerby Hall and Gardens in Bridlington where we had a go at some orienteering. We had to use our compasses to follow the instructions and find all the different codes in the park. Some of them were quite tricky but everyone did such a good job.
The most important thing for us to remember was after each instruction we needed to turn back so we were facing north again! The red arrow on a compass always points north!
WE'RE BACK!
It's so lovely to have everyone back in class this week! Everyone has settled in really well and got straight back into our school routine! I have loved seeing all the smiley faces back in the room again!
English
Week 3 - During home learning we began to explore letters and we looked at all the features we needed to remember to include in our letters. This week we have finished off by writing a reply back to a letter to Iron Man wrote to our class. We made sure we answered all his questions and even asked him some too! Maybe we will even get a reply...
PE
We have loved having Joe back with us this half term to do some PE with us. This half term we have been focusing on basketball and learning the different throwing and bouncing techniques needed to play the game! It's been lots of fun!
English
Week 1 - This week we have been looking at the features of newspaper reports. We used real newspapers to explore what each feature was and found some examples of each one from the newspapers. We then used some of these to create our classroom display.
RE
This half term our topic is 'Mary, Mother of God'
Week 1 - This week we began our topic by making observations and reflecting on a picture of Mary. We answered questions about what we could see, what we thought and what we wondered to help us work out what this half terms topic was.
In our next lesson we then discussed the importance of being chosen and why it's always important to choose the right person for the job. We listened to the Annunciation story and learned about why God chose Mary to be the Mother of his child, Jesus. We then had a go at retelling this story in our books.
PE
This half term we are super lucky to get the chance to have Joe from Leeds Rhino's here to teach us in Year 3. We have lots of fun in his lessons learning and practising lots of different skills as well as playing some fun games and tournaments.
Our Stone Age Inspiration Day
Wed 21st October 2020
Today we went back in time and arrived in the Stone Age. We swapped our school uniform for animals skins and bones and had a fun filled day full of pre-historic activities.
We built our own stone age dwellings using sticks, daub (mud, grass and water) and string. It was very tricky to keep them standing but with team work and perseverance we achieved some great final pieces.

We created our own versions of the Stonehenge using biscuits and icing. We used books to research how they needed to look. The trickiest part was not eating the biscuits!

We used sticks, cardboard and string to create our own weapons. We made spears, axes, bow and arrows and knifes.

We worked very carefully to cut up a range of fruits to make our very own stone age stew (fruit stew). We then enjoyed eating this around the campfire during the afternoon. It was very yummy! Some of us even had 2 bowls!

We performed a song as a class called 'we will rock you' that we have been learning during our music lessons with Miss Lee on a Monday. It was super fun! (Take a look on our school twitter page to see the performance).

We then finished our day around the campfire, roasted some fish on a stick (marshmallows) and enjoyed a story.
It was so lovely to see the amount of effort the children and parents put into the costumes! They all looked fantastic. Take a look below at what we got up to.
Forest/Sports Week
W/C 12th October 2020
14/10/20 - This Green Moon - Today we had the pleasure of visiting 'This Green Moon' in Swillington for our forest week trip. When we arrived we took a step back in time to join the Mesolithic period of the Stone Age. We dressed in animal skins, become hunters and gatherers and went on an adventure hunting for animals and collecting berries and nuts. We even managed to catch a fox. We scraped all of the fat of the skin and used this mixed with charcoal to create our own cave paintings. We had the best morning and ended it off by trying to start our own fire with flint before having lunch and roasting marshmallows on the camp fire!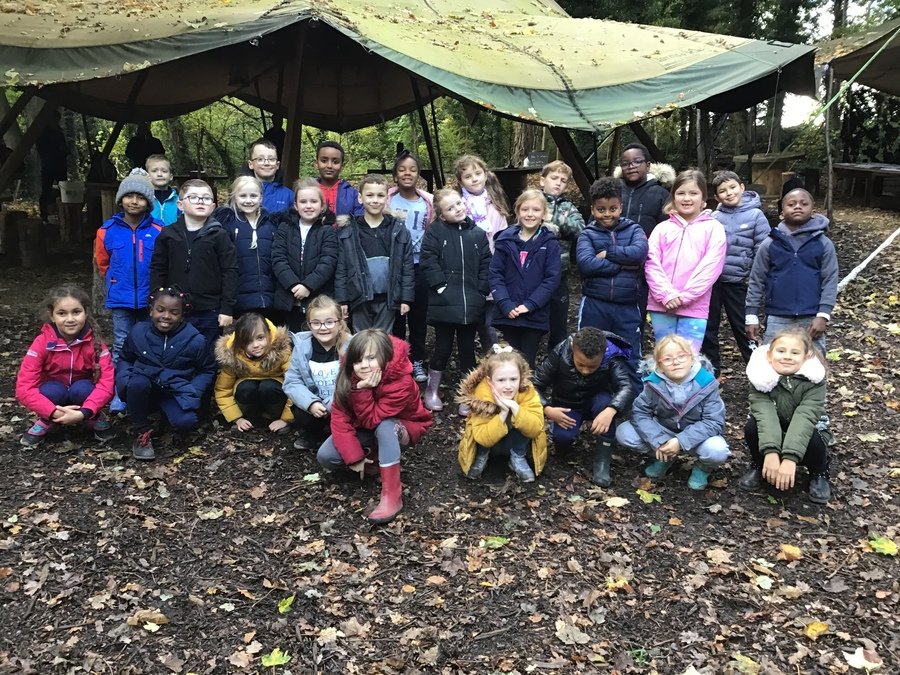 15/10/20 - Sports Day - Today, Year 3 took part in a special sports day organised by the lovely Miss Clayton in which we worked together in house teams to complete a series of field, track and other events. We had lots of fun and we can't wait to see which house team is our overall winner! Take a look at some pictures below showing all the fun we had!
English
Week 1 - This week we have been showing off our handwriting by writing 2 truths and a lie about our self's to share with the rest of the class. The rest of the class all wrote down what they thought each others lies were and gave reason! We learnt lots about each other and some very funny and interesting facts. We also worked on making sure we were using capital letters and full stops in the correct places.
Week 4 - Over the past couple of weeks we have been exploring how to write our own story that was set in the past. We have linked these to our history topic 'The Stone Age'. This week we have carefully planned and wrote our opening, build up and dilemma to our story. Have a listen to some of them below :) We have tried hard to include lots of expanded noun phrases as well as using the correct past tense words!
Week 5 - This week we have finished writing our story's set in the past by planning and writing our resolution and ending. We were super excited to then write it up in neat on some special Stone Age paper. Take a look at parts of our stories below!
I am super proud of all the children with the effort they have put into their writing this week and I have already seen some big improvements since the start of the year!
Maths
Week 2 - This week we have been exploring adding and subtracting 1, 10 and 100 to 3 digit numbers. We used base ten to help us to see a pattern in what happens when we do each equation. We now know that only one column of the number needs to change!
Week 5 - This week we have began to look at addition and subtraction. We have been using column method to add 3 and 1 digit numbers without crossing ten. We then began to look at addition when crossing ten. The children all worked so hard with their presentation and they set the methods out beautifully while thinking about which part of the number needed carrying over and where to show it.
History
Our History topic this half term is The Stone Age to Iron Age.
Week 1 - This week we thought about all the different things we wanted to learn about during our topic. The children thought of some amazing questions as well as shared some of things they think they already know. Take a look below!
Week 5 - We have been thinking carefully about the type of clothes people wore in the stone age to help us with some ideas of how we could dress for our inspiration day. We thought very carefully about the different materials that they would use and how they might feel. As a class it was decided that wearing colours the same as animal skins such as browns and creams would be the most effective as well as using fur and ripped materials.
RE
Our RE topic this half term is the Christian family.
Week 2 - We have been thinking all about how we are all part of a family and what special things we enjoy doing with our family members, We discussed and shared ideas about how every family is different and all have different ways of living but they are all just as special and loved by God. We all had a go at drawing a picture of our family and then drawing pictures or writing around that to show some of our favourite things we do with each other. We then wrote a prayer to thank God for our family and the special times we share.
Week 5 - This week we have been retelling the story of Jesus' Baptism. We created a collage with push up characters (Jesus and John the Baptist) to support us with our retelling.
PE
In PE we have been working on our throwing and catching skills. We challenged ourselves to see how many times we could throw and catch a ball to each other without it touching the floor. We then had a little competition between the boys and girls. Luckily it ended in a draw so we had smiles all round! :)