Year 2 Catholic Life
November Mass : Wednesday 15th November 2023
Today Year 2 and Year 4 walked down to church for Mass with Father Neil. Year 4 sat next to us and helped us read the words from the booklet. We enjoyed listening to the Year 4 children leading the Mass.
Remembrance Day Worship: Friday 10th November 2023
We shared a very calm and thoughtful Class Worship this morning. We brought our prayers together and shared them and thought about why we remember.
Remembrance: Monday 6th November 2023
Today we created poppies to hang in our classroom to help us remember that November is the month of Remembrance. We spoke about how we can remember the soldiers and how we can also remember our friends and family who may have sadly died. We will use these poppies during our worships this month.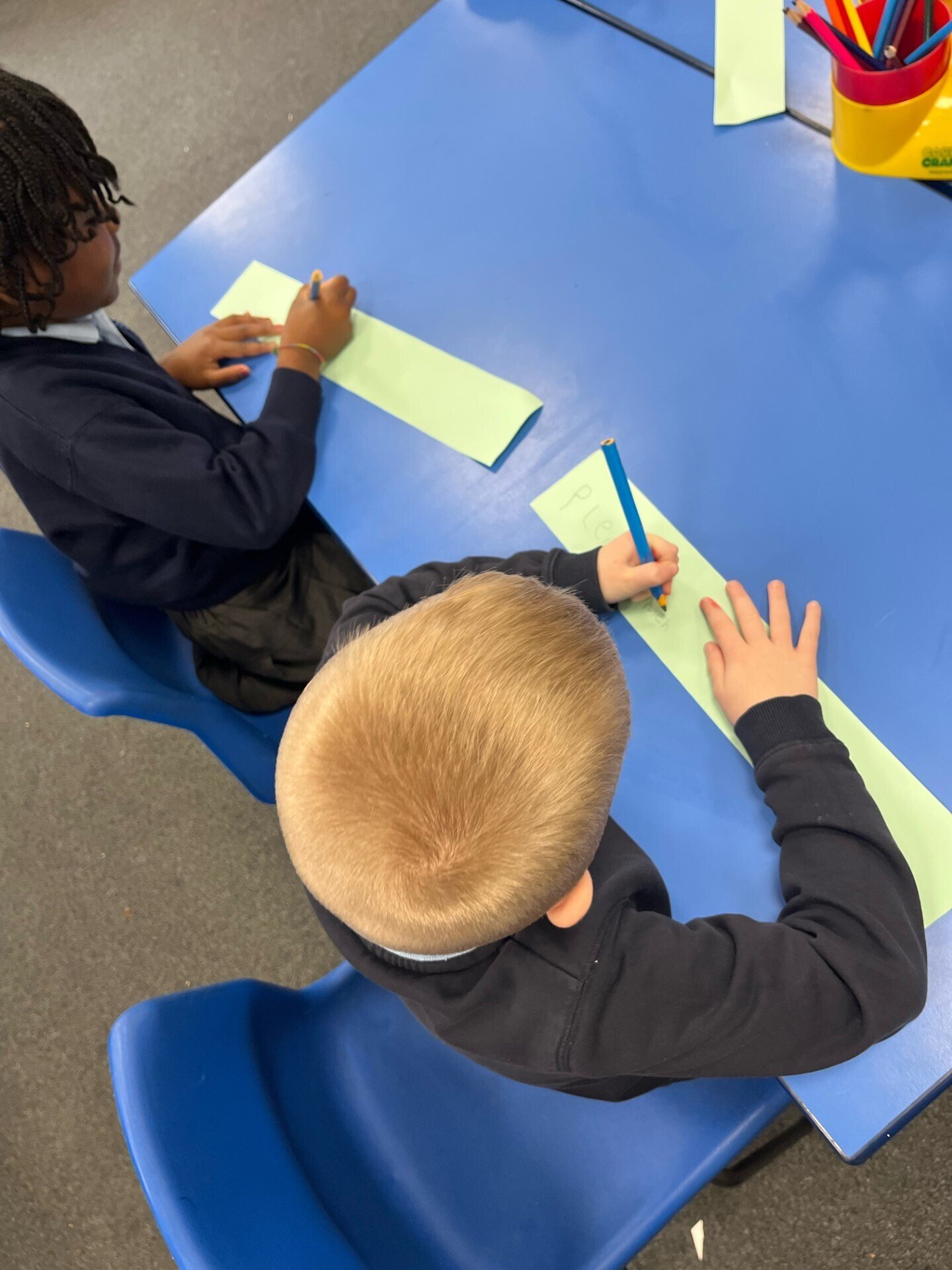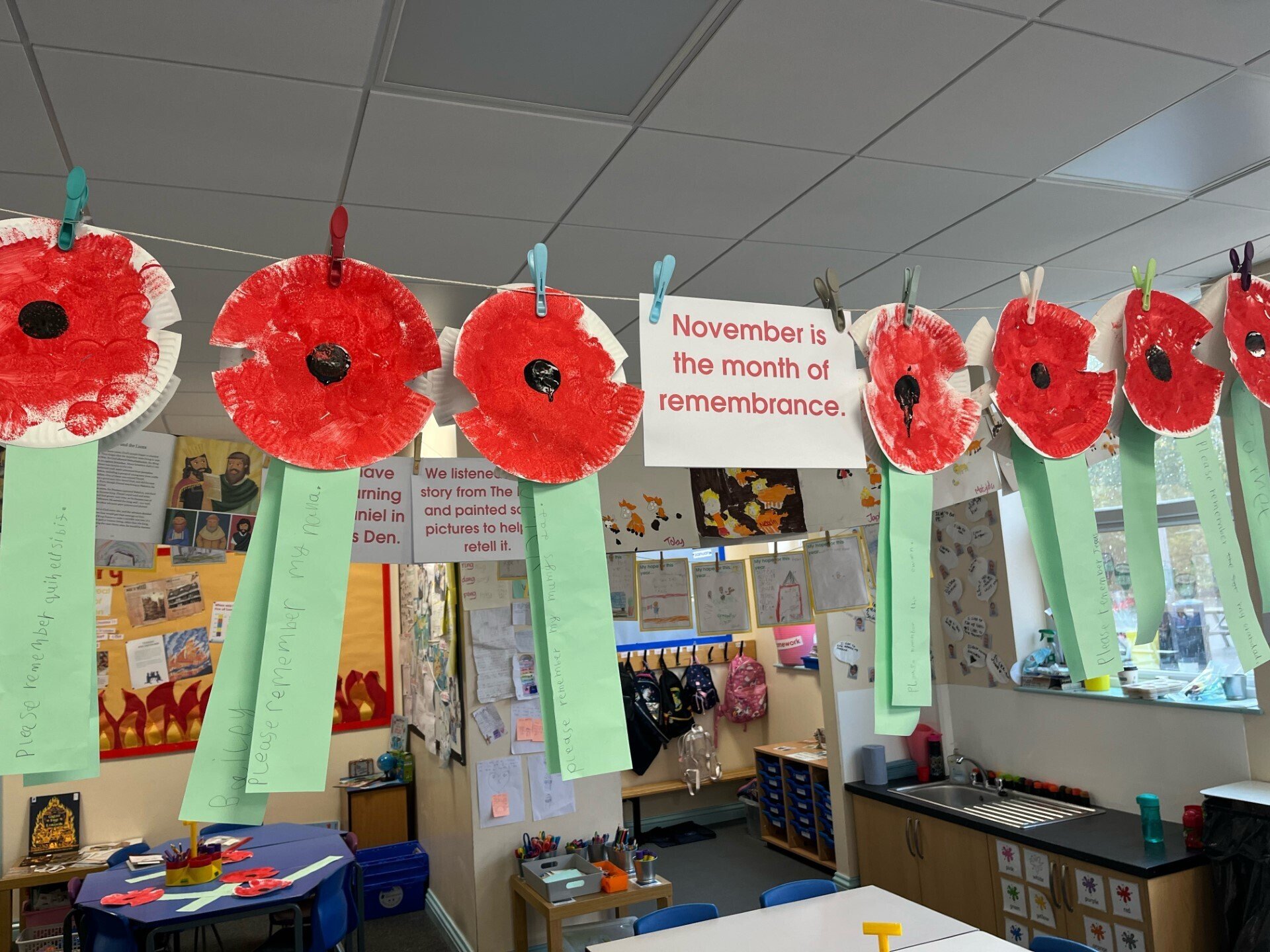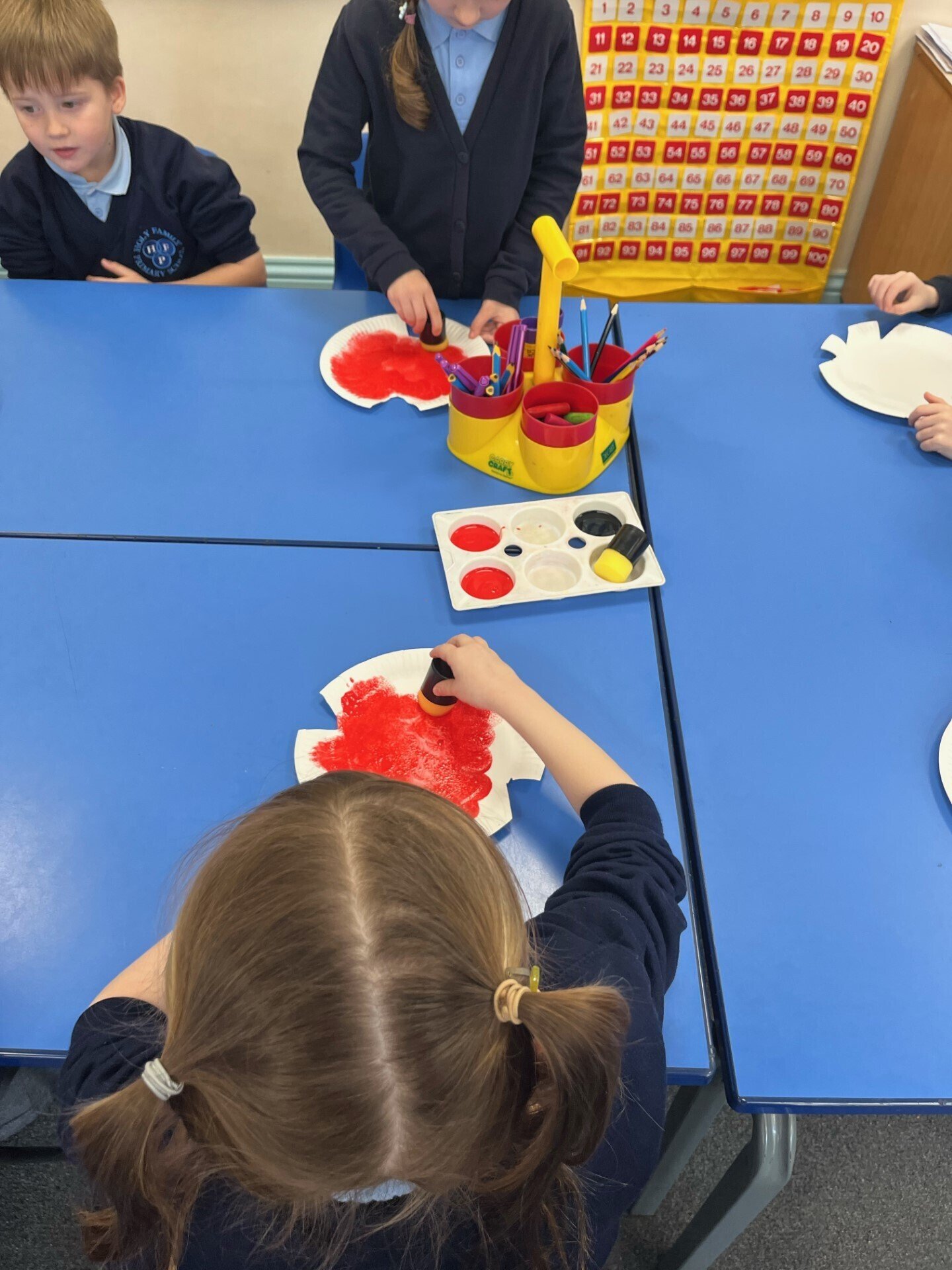 Harvest Fundraising : 10th October 2023
Here are just some of our Year 2 children who have kindly donated food to be sent to the Leeds homeless street Aid.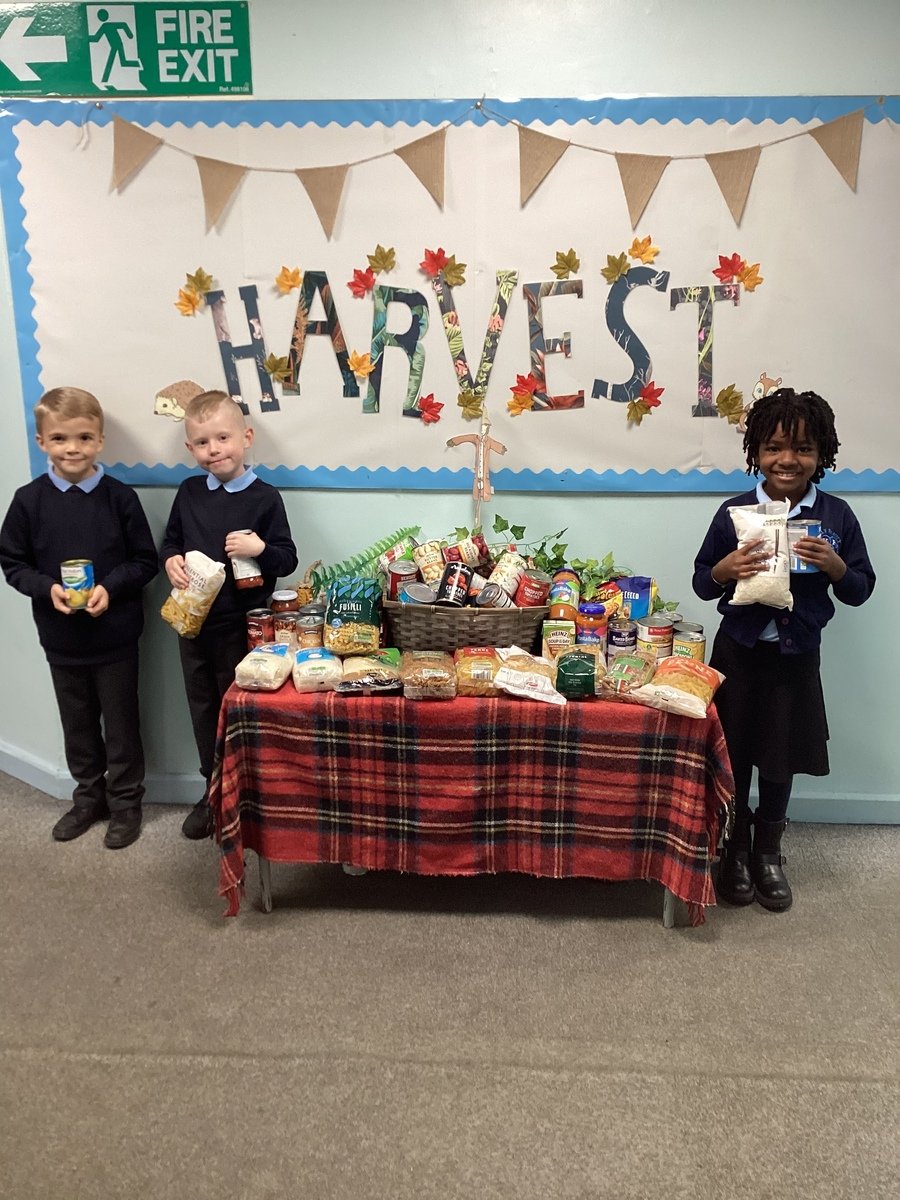 Class Virtue Design: 29th September 2023
We loved getting to create a design to represent our Class Virtue of Love/Charity!
Class Virtue: 27th September 2023
Today Year 2 enjoyed designing their own their own key ring as part of their Class Virtue Love/Charity. They then got to take these home.
Start of the Year Mass: 13th September 2023
We walked down the Church to celebrate Mass with Father Neil for the new school year. We walked down with Year 5 and they sat next to us to us read the words in the booklet. When we came back from Mass we had a really good chat about the things we noticed.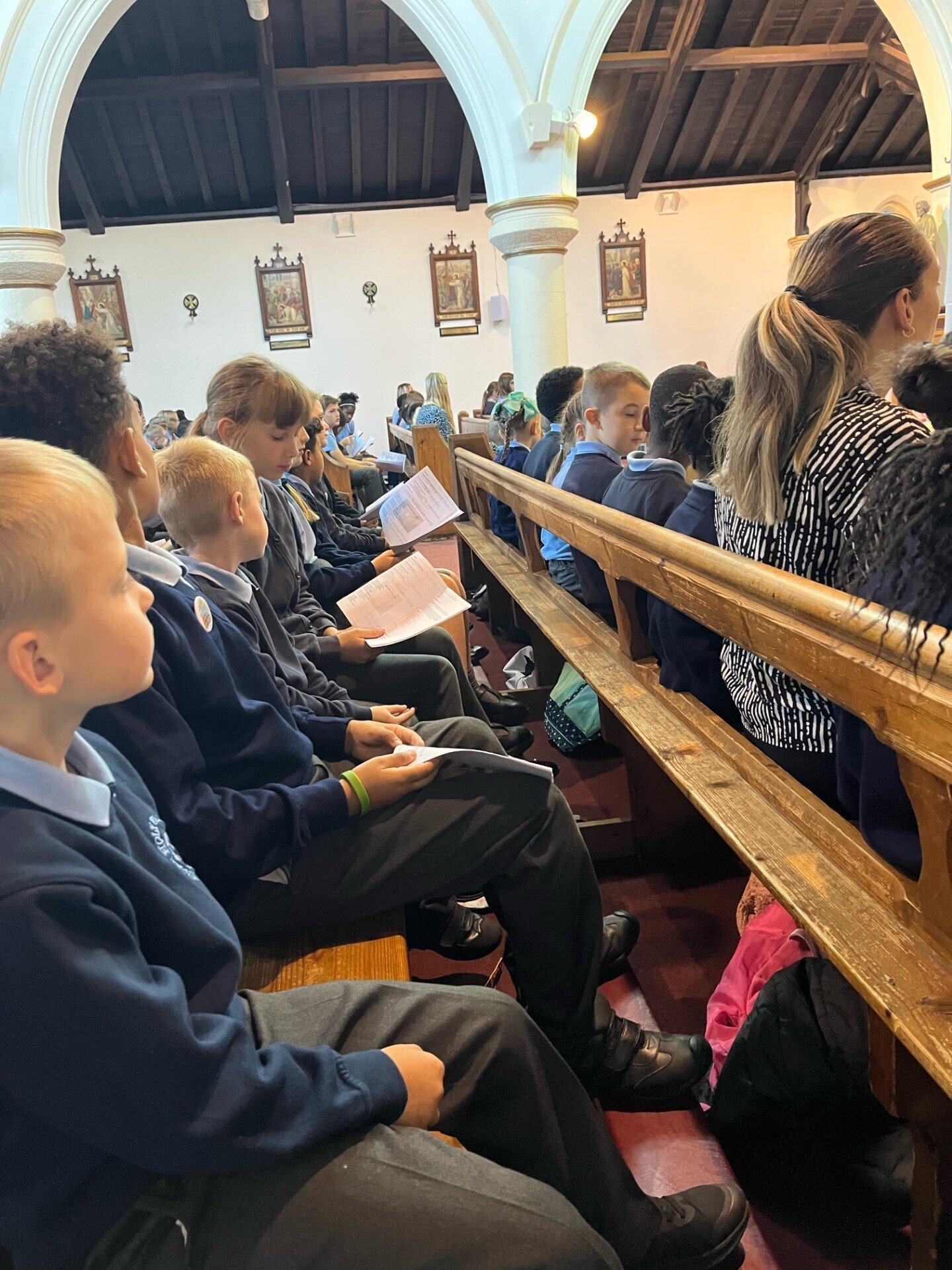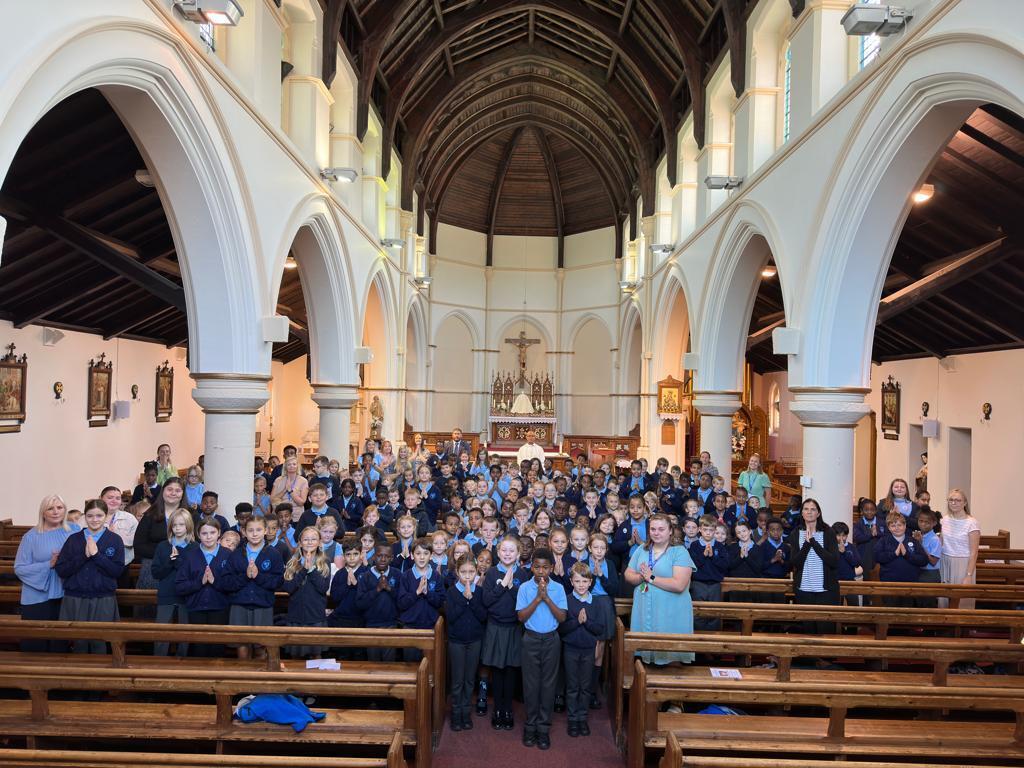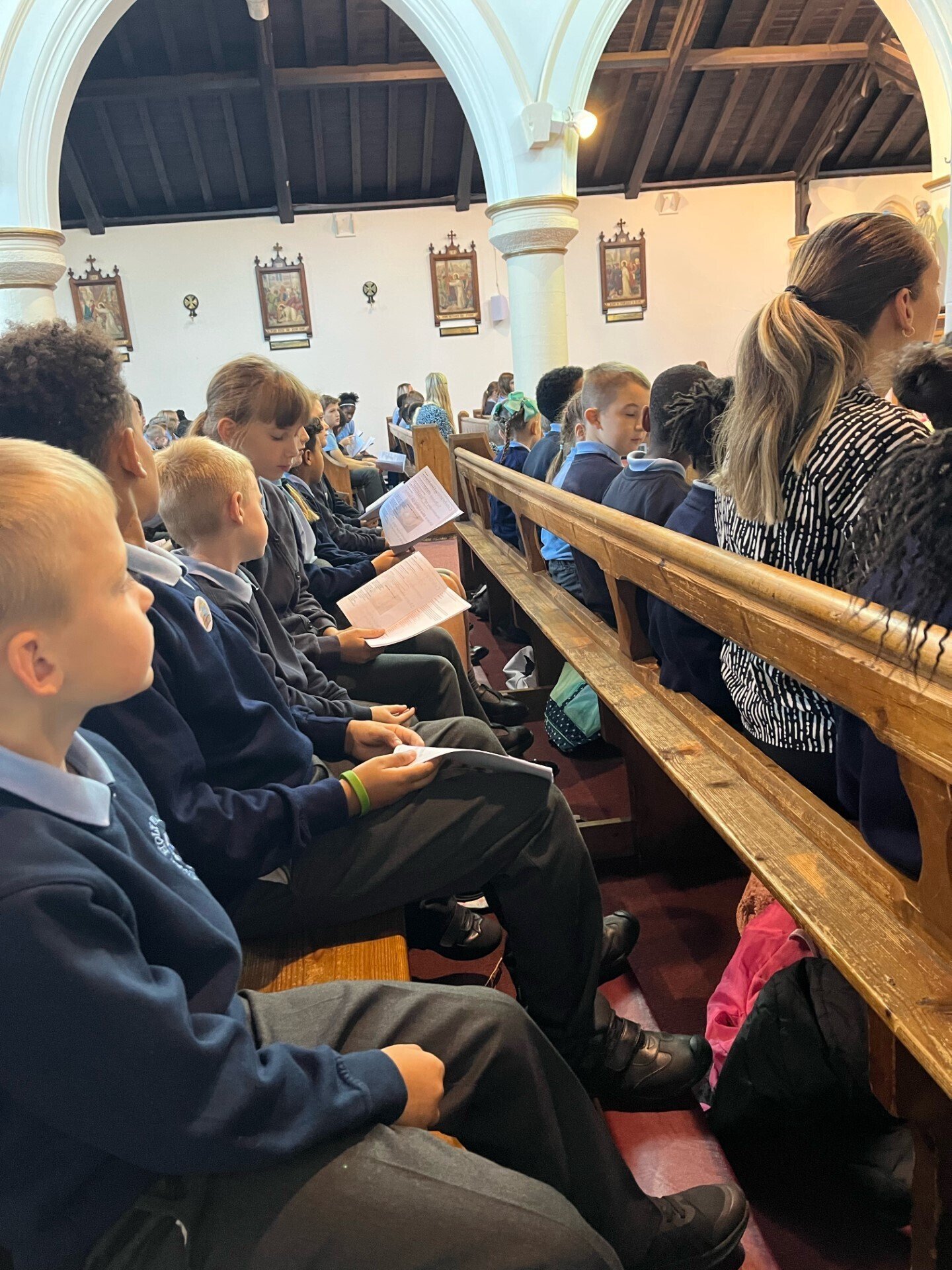 Our Class Virtue: 4th September 2023
" This is my commandment, that you love one another as I have loved you." ( John 15:9)
We started the new school year by exploring our Class Virtue of Love/Charity. We shared love hearts with each other and spoke about how it made us feel to be told these wonderful things. We look forward to learning more about our Virtue this year.
Mission Day: 10th July 2023
We had the best day ever celebrating Mission Day. We spoke about how we are always following our mission at school of 'To Work, To Pray, To Play in the Light of the Lord'. We decorated our own crosses which Father Neil then blessed, we played with Year 3 and worked on what we thought love meant.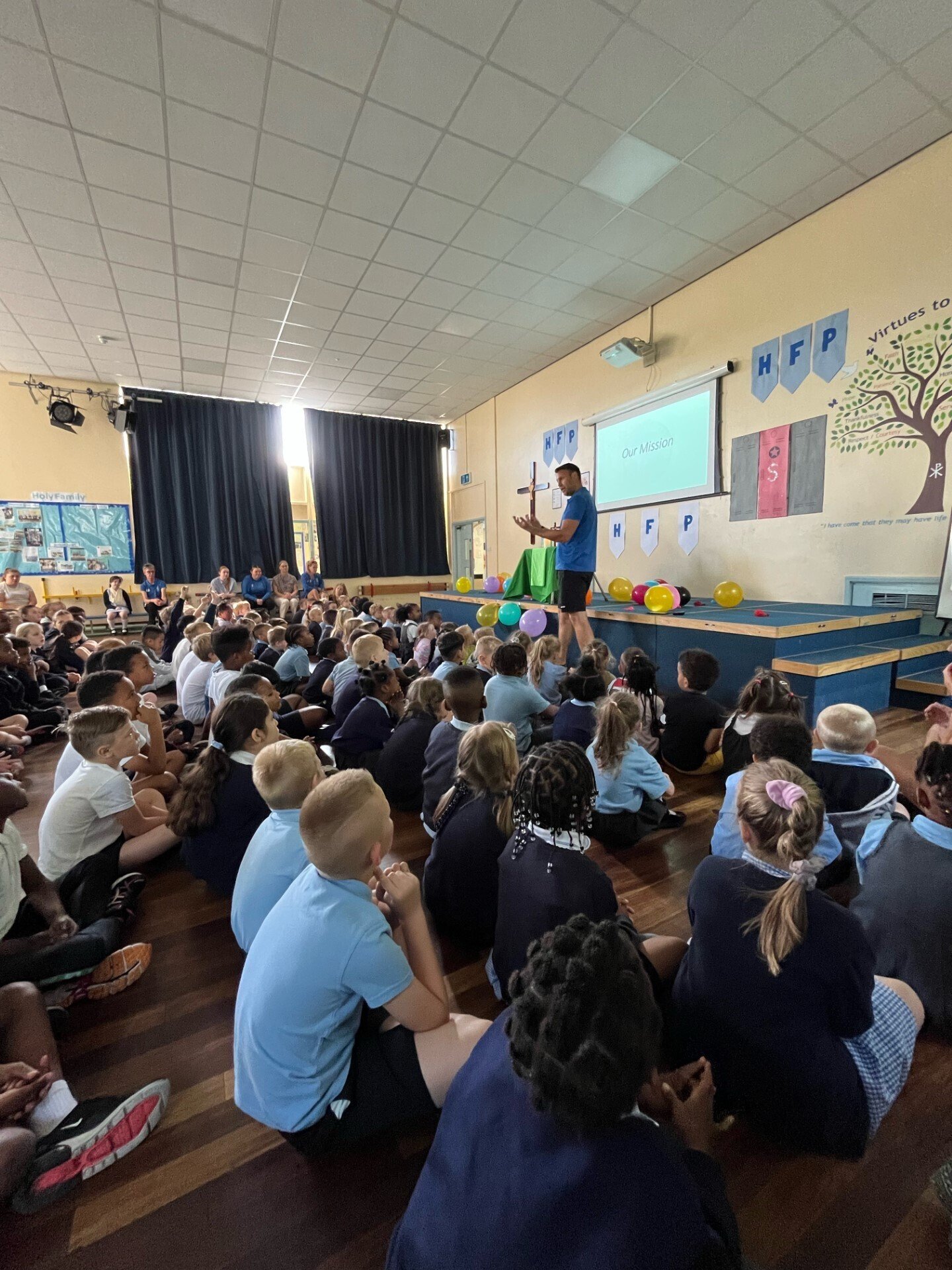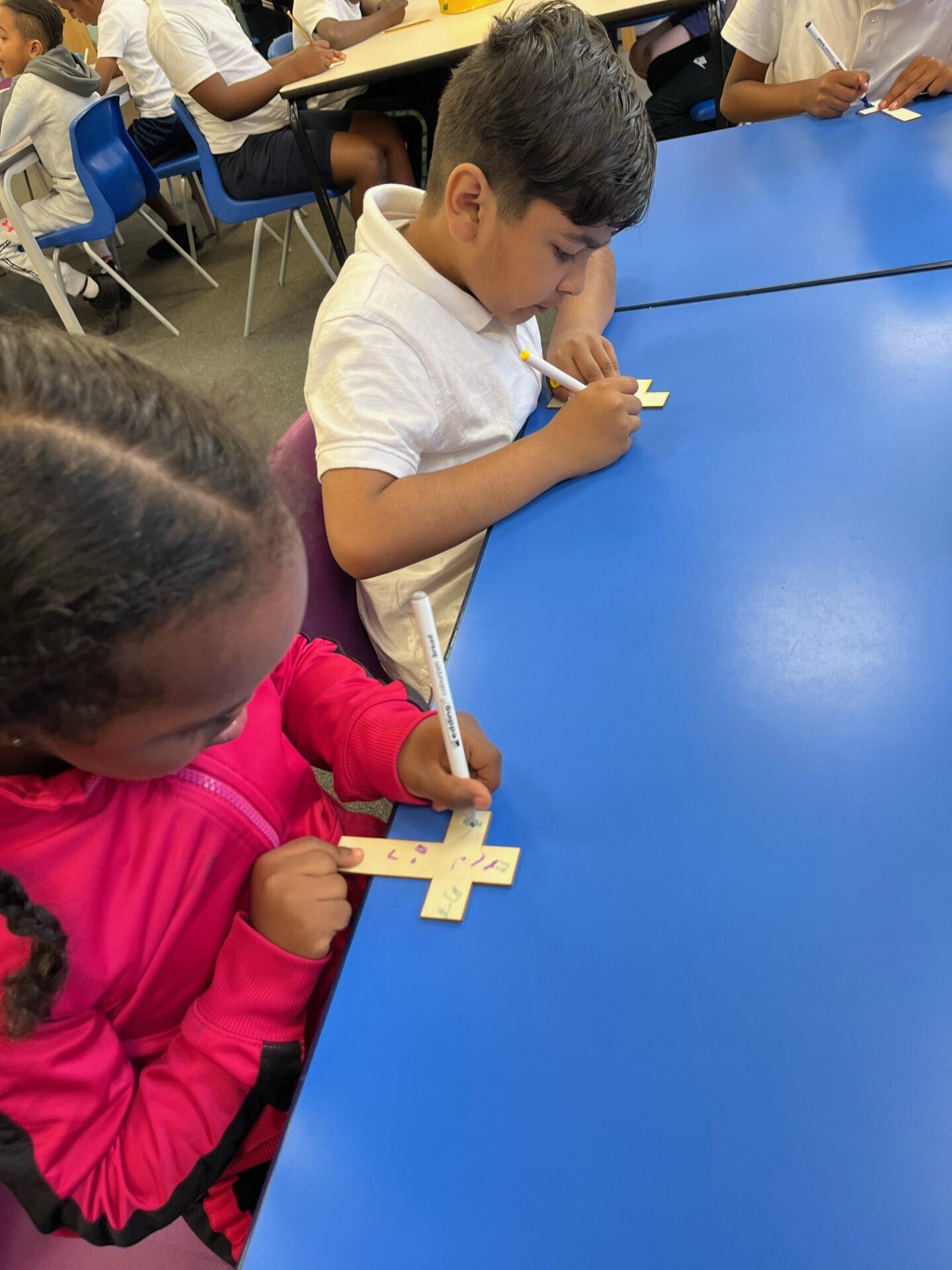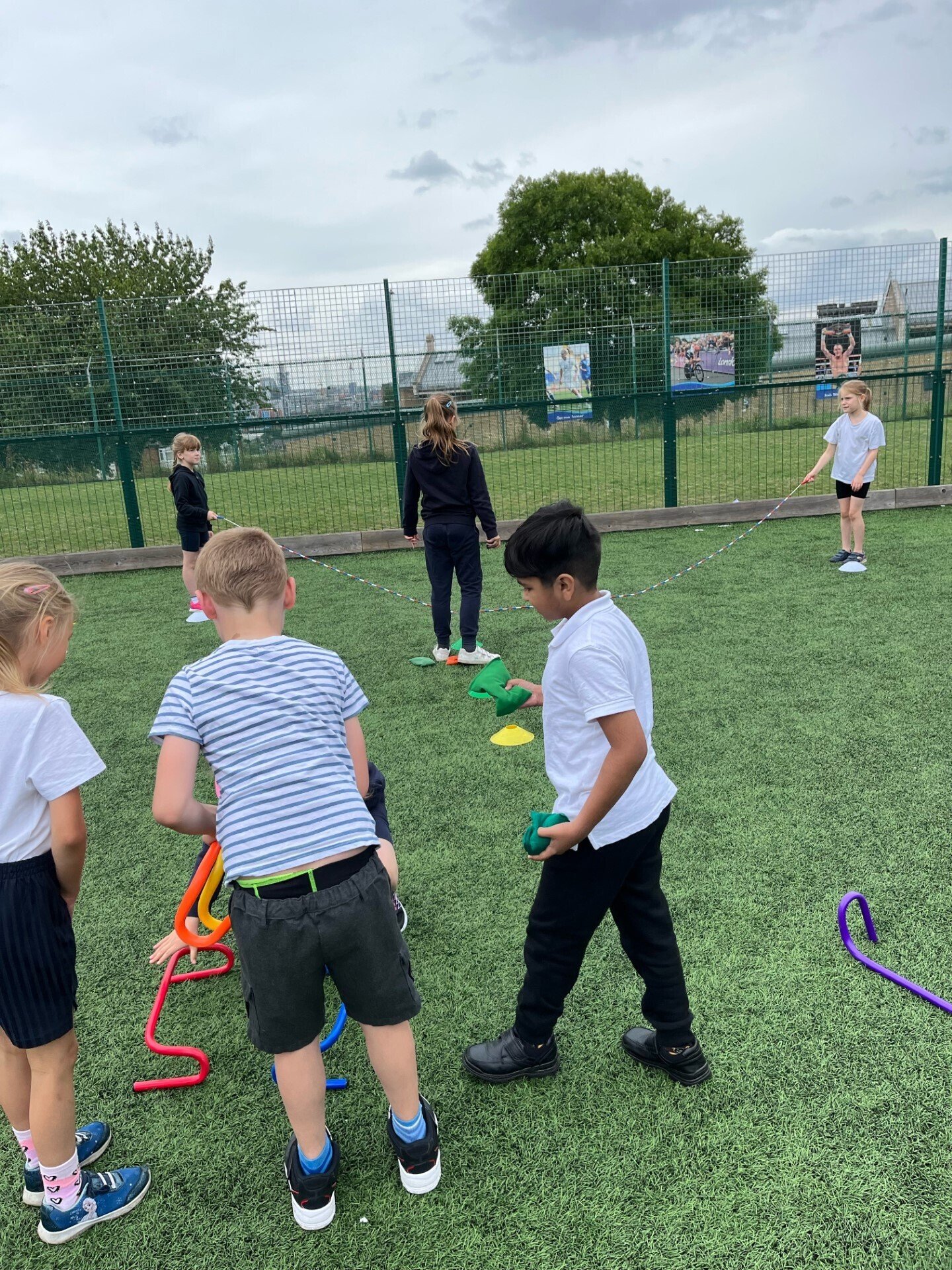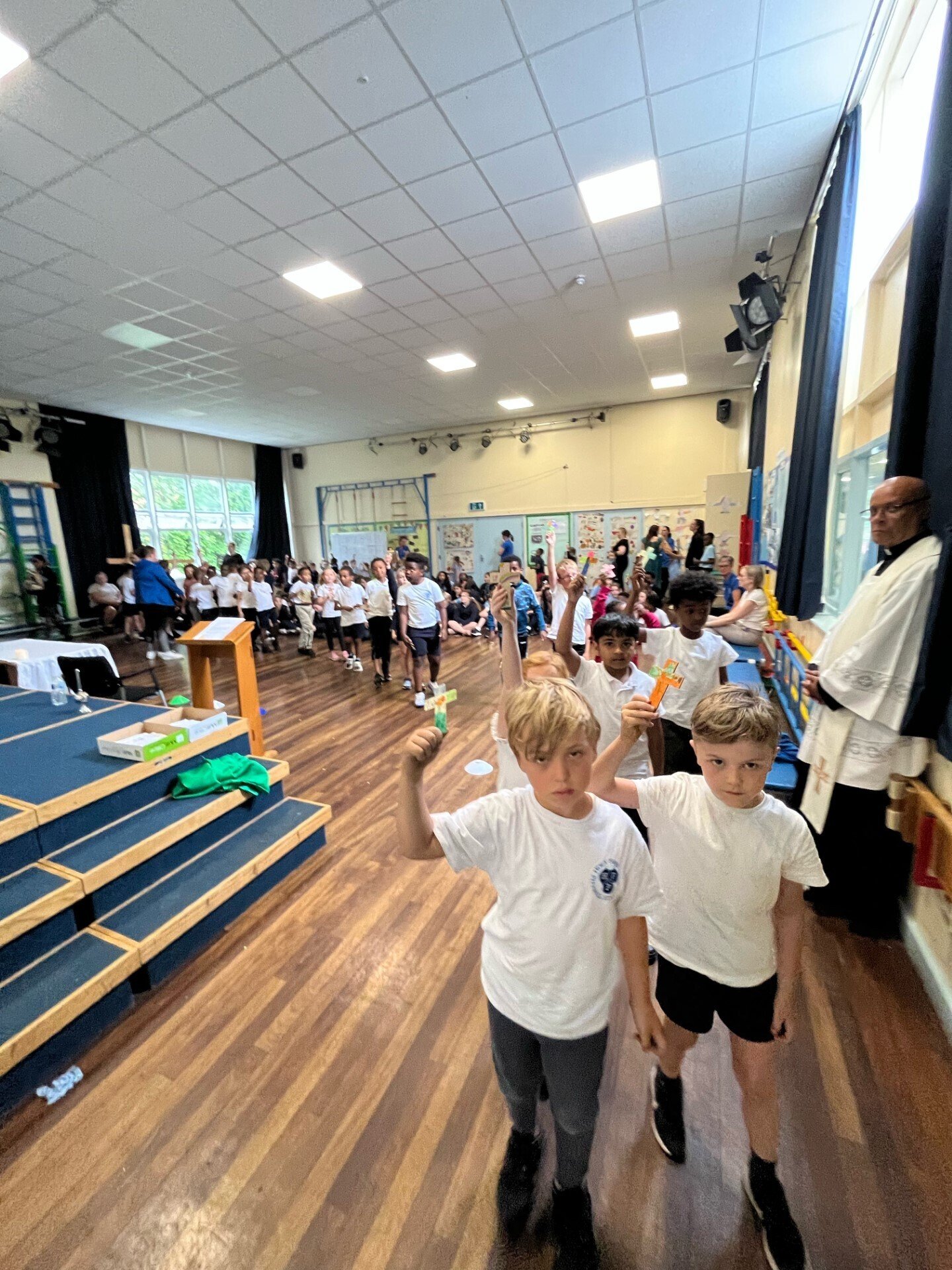 Our Class Assembly: 21st June 2023
We shared a wonderful assembly with the school and our families all about Father's Day. We told people about Abraham and how he is our father in faith.
Spreading The Good News: 16th May 2023
As part of our R.E. lesson today about Pentecost, we went out to share The Good News just like the disciples did! We made sure everyone in our school community heard us.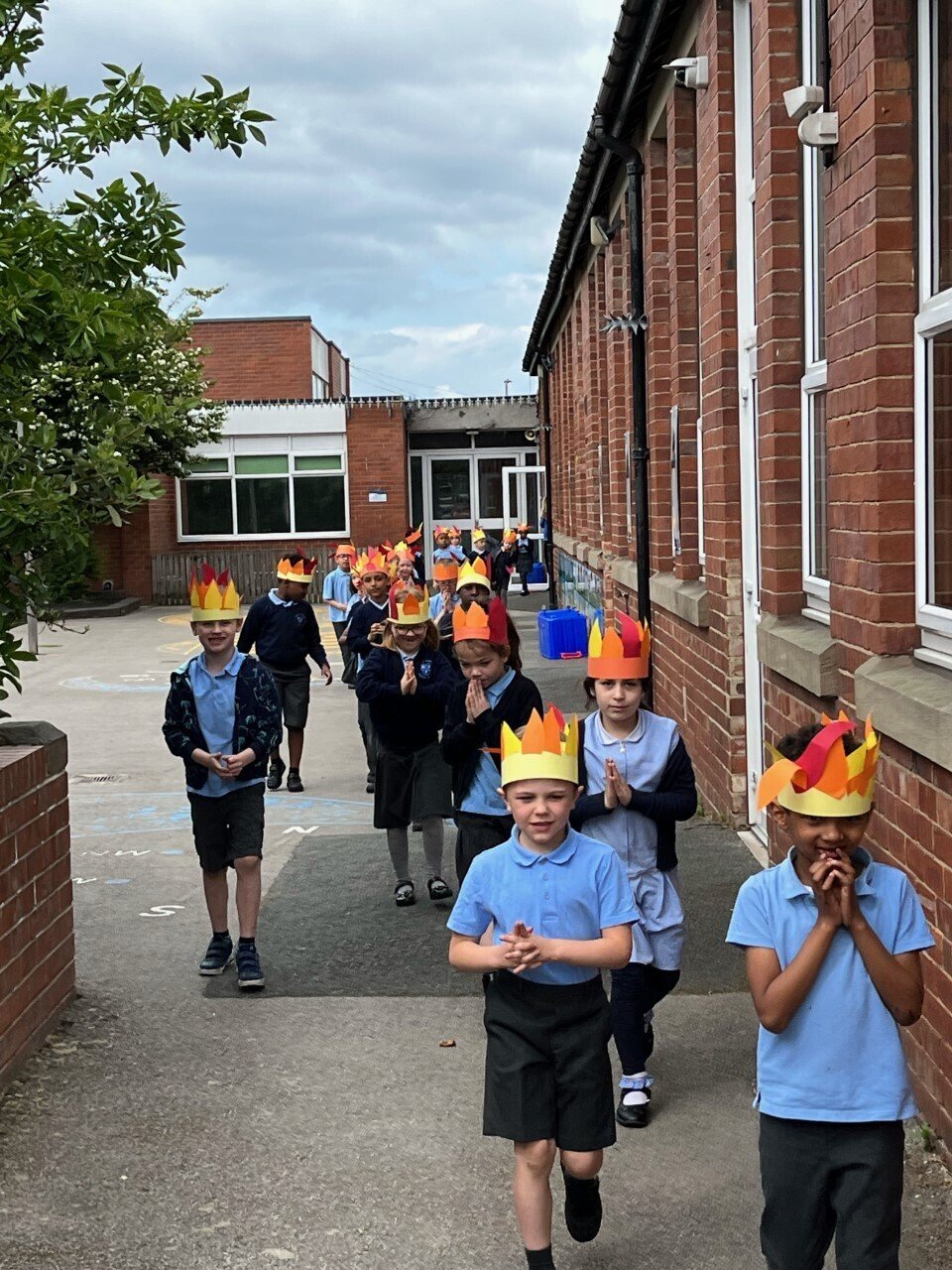 Our Class Assembly: 3rd May 2023
Today was our first Class Assembly of the year. It was all about the coronation of King Charles iii and we shared a gospel from Matthew about how we can all shine our lights brightly.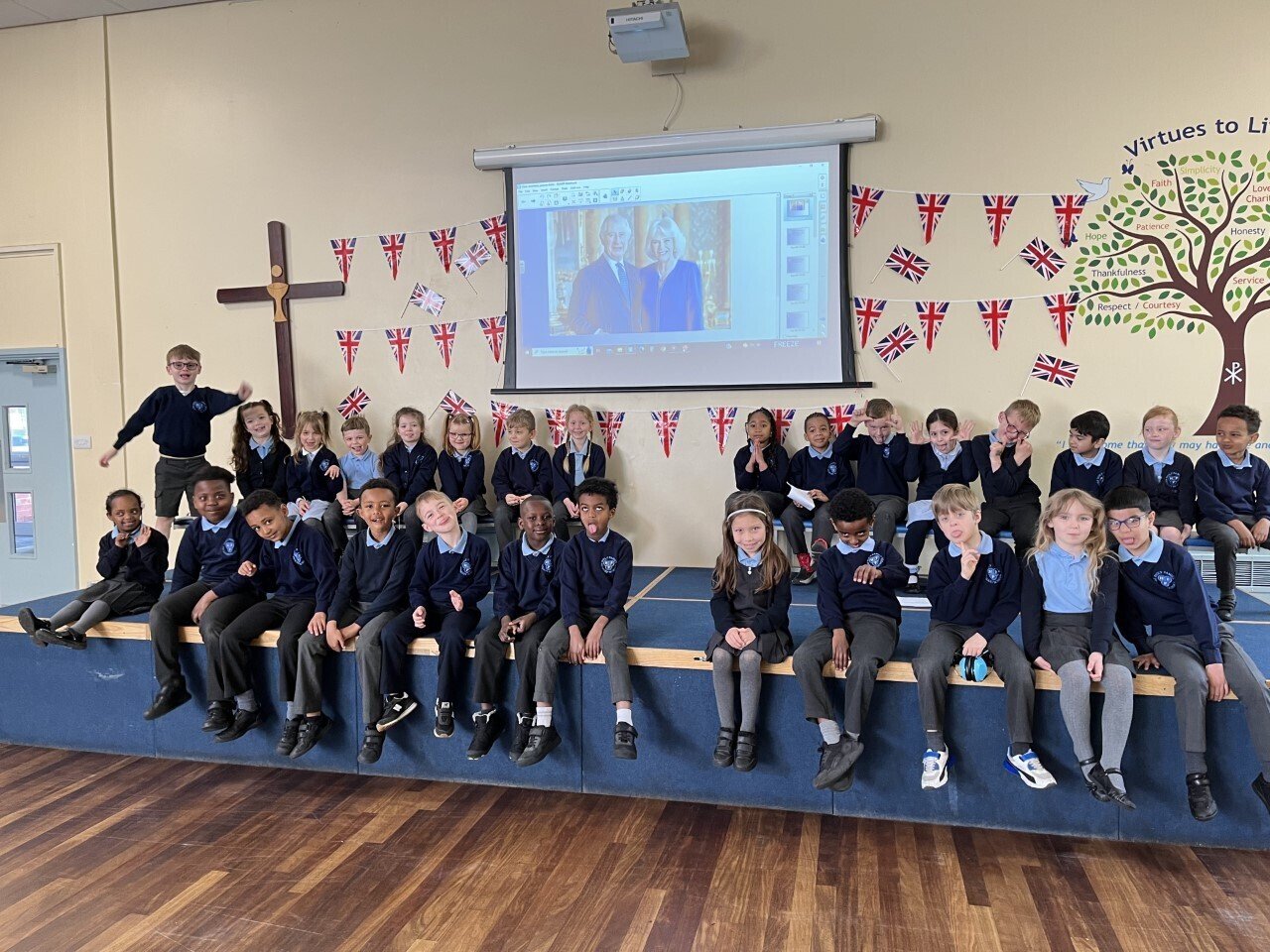 Monday 20th March 2023
Lenten Walk
Today year 2 took part in 'The Big Lent Walk' to raise money for CAFOD. We had a lovely walk around Golden Acre Park and even got to see some wild birds and lots of squirrels along the way.
Friday 24th February 2023
Today in year 2 we have been preparing for the season of lent. Mrs Walsh chose a prayer table monitor to change our prayer table cloth from green to purple and we also wrote our Lenten promises.
Brody - My Lenten promise is to open the door for my mum.
Emma - My Lenten promise is to look after my cousin.
Oren - My Lenten promise is to say thank you after eating my dinner.
Friday 3rd February 2023
Virtues Day
Today in Year 2 we have been learning about the virtue love and charity and what it means to show love to one another.
Mrs Walsh gave us all some love heart stickers to give to people and share something kind about what we love about them.
Mrs Walsh - "How does that make you feel?"
Mikolaj - "I feel special"
Charlotte- "I feel thankful"
Julia - " I feel happy and surprised"
We then designed our own love hearts and wrote what we can do to show love. We shared these with the school in our assembly.

" This is my commandment, that you love one another as I have loved you." ( John 15:9)